Day 1 Breastfeeding Essentials
$69














Day 1 Breastfeeding Essentials
IBCLC-approved essentials for evidence-led breastfeeding support from the first moments
$69
Breastfeeding Essentials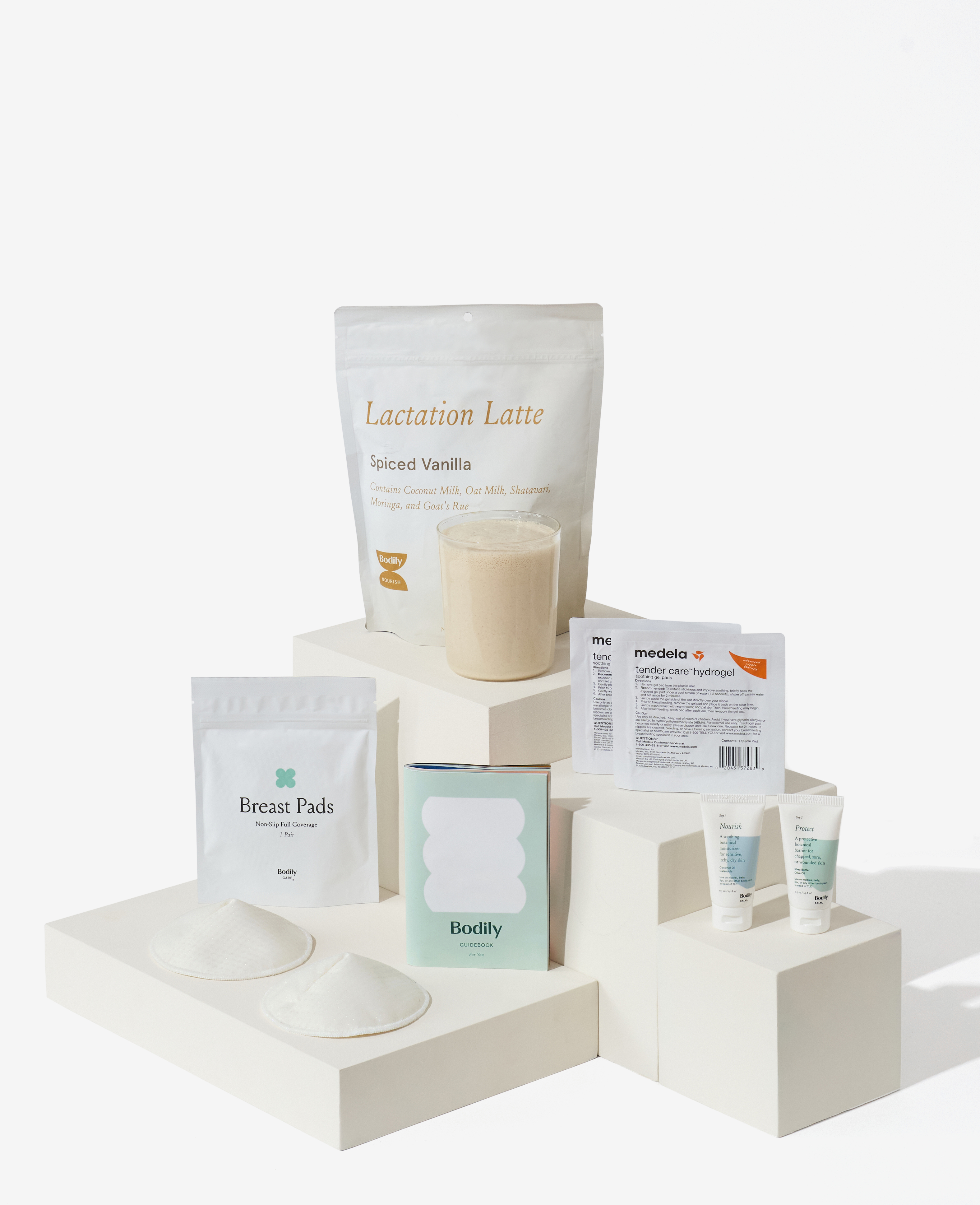 Lactation Latte (Select Your Flavor)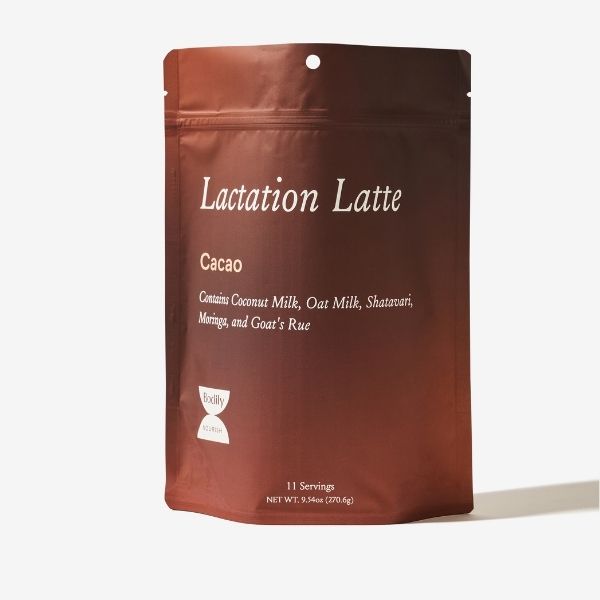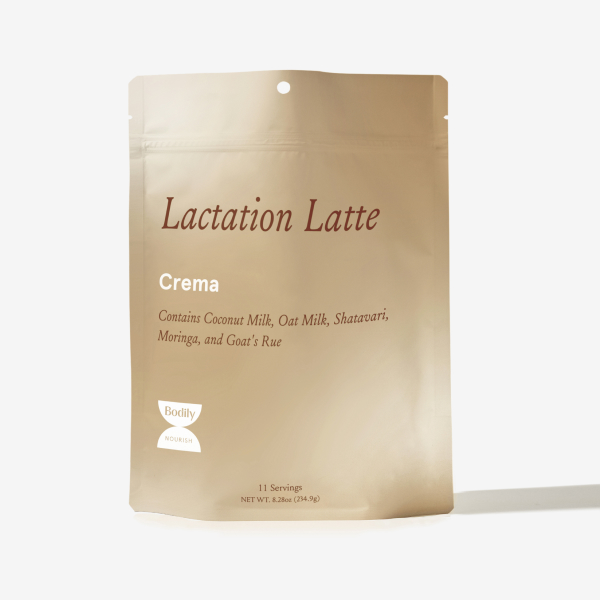 Every breastfeeding journey is different, and we're here to support you through every stage. The Day 1 Breastfeeding Essentials set includes all the research-backed resources you'll need for the very first latch or pumping session and beyond. This set offers organic, premium breastfeeding support that nourishes and soothes.
Bundle Includes:
Lactation Latte (1 pouch)
Nip Nourish (.5 oz.)
Nip Protect (.5 oz.)
Non-Slip Breast Pads (1 pair)
Cooling Gel Pads (1 pair)
Guidebook for You
Zippered Pouch
What's in the Solution Set?
Lactation Latte (1 pouch): Choose from 3 flavors (Spiced Vanilla, Cacao, and Booster) for 11 servings of our decadent blend of organic, premium ingredients – including four essential galactagogues – that offer a delicious daily breastfeeding boost. Our recipe is free-from: dairy, artificial sweeteners, caffeine, soy, brewer's yeast, and fenugreek.
Nip Nourish (.5 oz): A buttery, coconut oil-based moisturizer that helps keep that delicate skin from drying and cracking.
Nip Protect (.5 oz): Our plant-based alternative to lanolin that's rich with shea butter and olive oil to lock in moisture.
Non-Slip Breast Pads (1 pair): Soft, absorbent, and made of eco-friendly bamboo, these organic, reusable nursing pads catch excess breast milk, help prevent nipple chafing, and ease discomfort from sensitive or sore nipples. Non-Slip silicone dot exterior to keep them in place.
Cooling Gel Pads (1 pair): Lightly adhesive hydrogel pads, that give a little extra relief from post-breastfeeding tenderness.
Guidebook for You: Our pocket-sized guidebooks provides you with the essential information you need to be prepared for birth and postpartum recovery.
Zippered Pouch: This convenient, reusable bag lets you easily pack breastfeeding essentials in your hospital bag.
Lactation Latte FAQ
Why don't we include Fenugreek?
Why don't we include Brewer's Yeast?
Studies have shown that Brewer's Yeast can cause adverse reactions in some people, most commonly weight gain, stomach cramps, dry mouth, and nausea. Unlike several lactation cookie brands that use Brewer's Yeast as a binder, Bodily's Lactation Lattes don't contain Brewer's Yeast in our formulation.
Why aren't we labeled "gluten free"?
While the blend is technically gluten free and contains gluten free ingredients, we are in the process of rigorously testing to make sure that each Lactation Latte is compliant with FDA standards for this allergen.
What's a galactagogue?
Galactagogues are ingredients that have been used to support the production of breast milk for centuries in cultures all across the world. Our recipe includes four all-natural galactagogues to support lactation: Oats, Shatavari, Moringa, and Goat's Rue.
Learn More About Cracked & Sore Nipples
Sore, cracked, or bleeding nipples affect about half of people who breastfeed, especially in the early days. While topical treatments can provide relief, if nipple pain is recurrent it can be a sign of an incorrect latch or ill-fitting breast pump that may require support. A lactation consultant can help you evaluate the issue and provide solutions to help you navigate. Click here to read more.
NON-SLIP ORGANIC BREAST PADS (FULL COVERAGE) Materials:
Layer 1 (anti-leak, anti-slip): Polyester & Silicone Layer 2 (high-absorbency microfiber): Polyester, Polyamide Layer 3 (against skin): Organic Bamboo, Polyester.
Care: Machine wash cold. Dry pads thoroughly on regular heat. Do not use fabric softener or dryer sheets — they create a coating which inhibits absorption.
Ingredients
NIP NOURISH
Organic Coconut Oil, Organic Jojoba Seed Oil, Beeswax, Calendula, Calendula Flower Extract, Caprylic/Capric Triglyceride
NIP PROTECT
Shea Butter, Organic Olive Fruit Oil, Organic Coconut Oil, Caprylic/Capric Triglyceride, Calendula Flower Extract, Beeswax, Tocopherol
Nip Nourish & Protect are free from: parabens, dyes, fragrances, petroleum and lanolin. Made in USA.
LACTATION LATTE: SPICED VANILLA
Organic Coconut Cream Powder, Organic Oat Milk Powder, Organic Coconut Sugar, Organic Shatavari, Madagascar Vanilla Powder, Organic Moringa, Organic Cinnamon, Goat's Rue
LACTATION LATTE: CACAO
Organic Coconut Cream, Organic Oat Milk, Organic Cacao, Organic Coconut Sugar, Organic Shatavari, Madagascar Vanilla Powder, Organic Moringa, Organic Cinnamon, Goat's Rue
LACTATION LATTE: CREMA
Organic Coconut Cream, Organic Oat Milk, Organic Coconut Sugar, Organic Shatavari, Organic Moringa, Goat's Rue
Lactation Lattes are free from: Dairy, Artificial Sweeteners, Caffeine, Soy, Brewer's Yeast, and Fenugreek