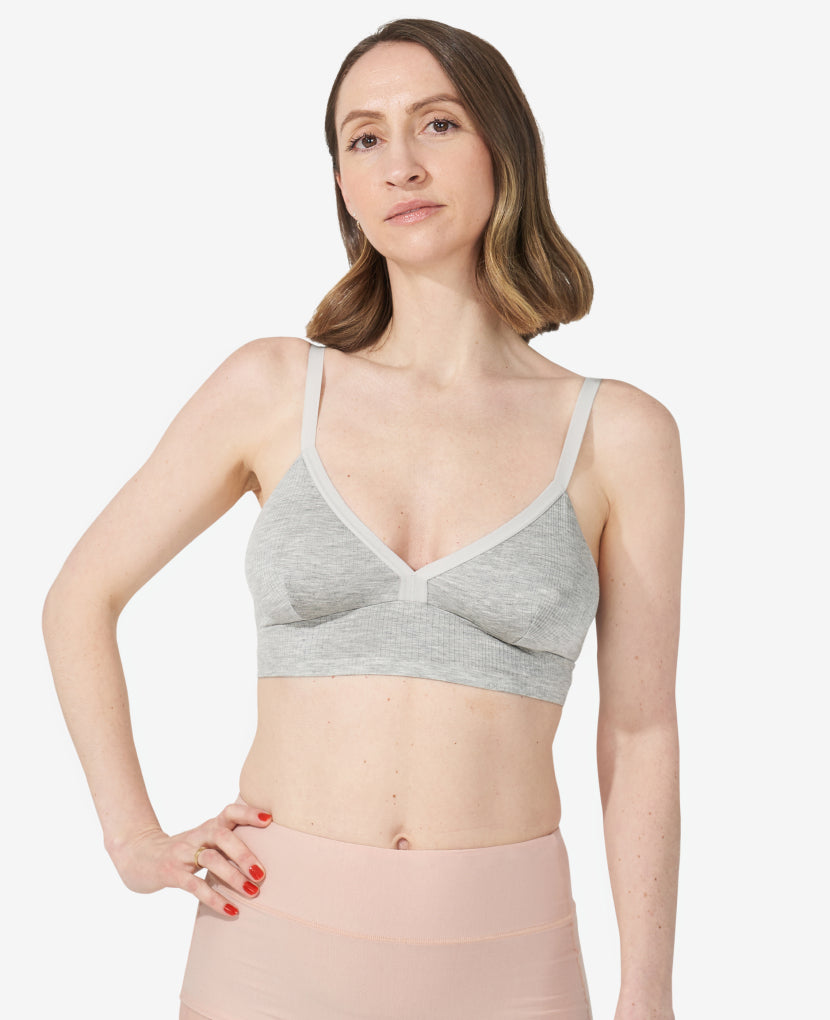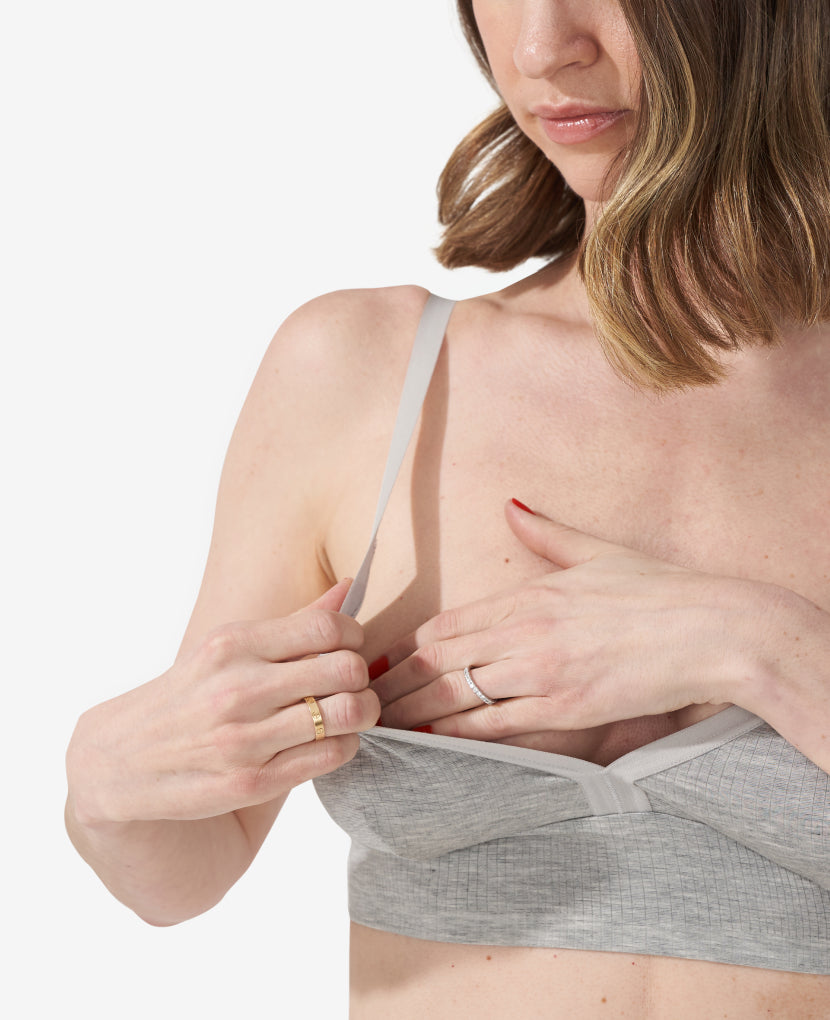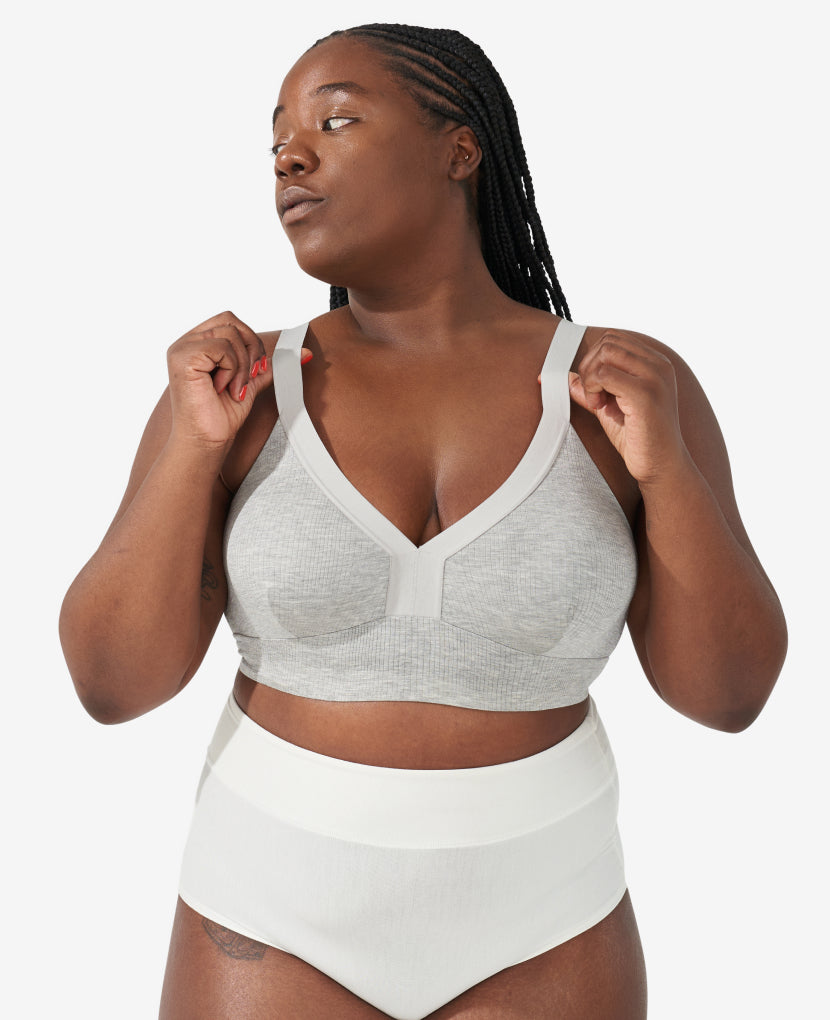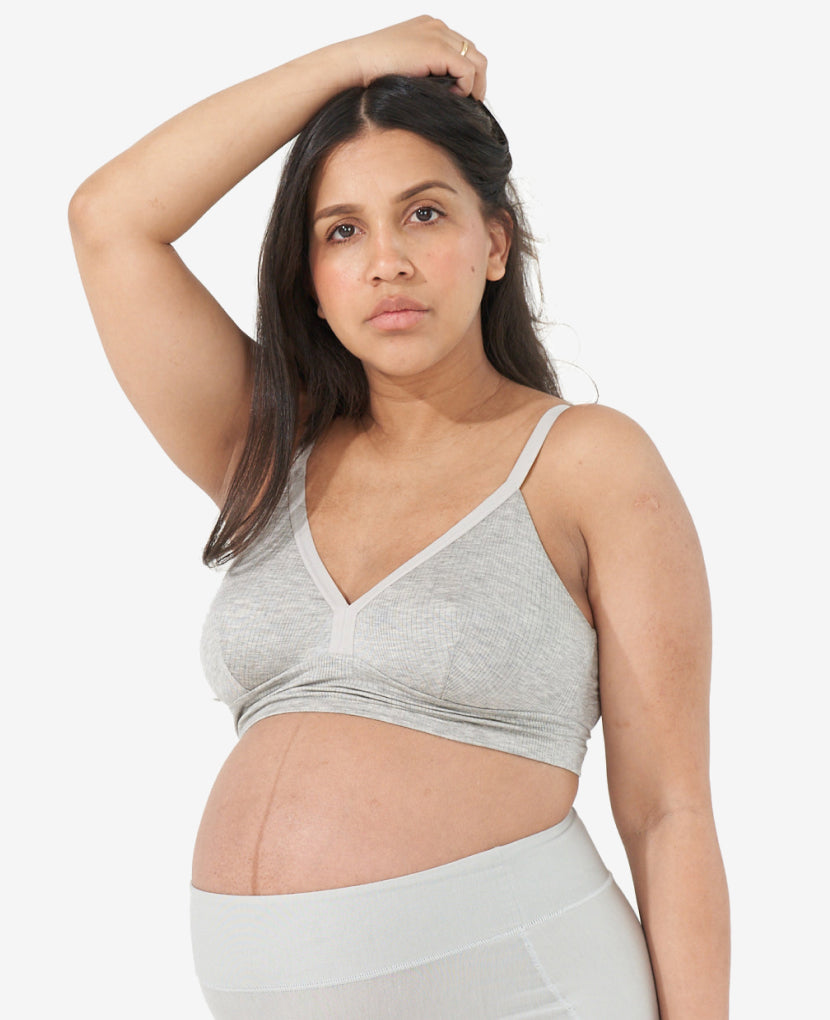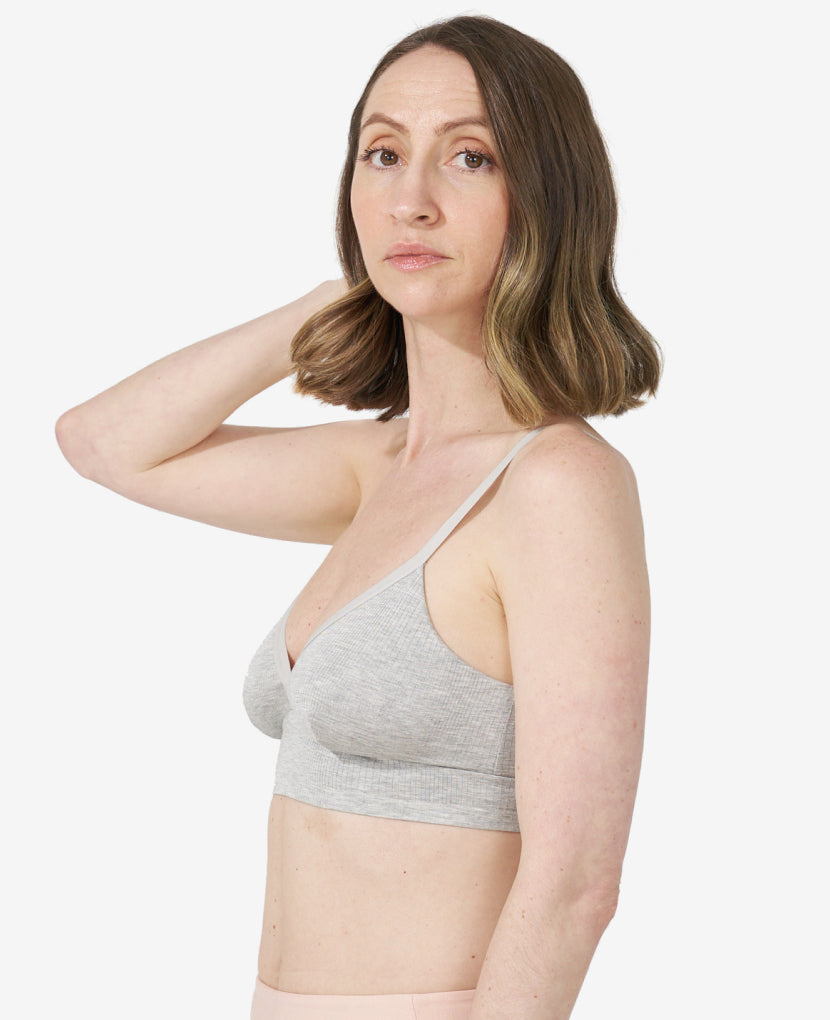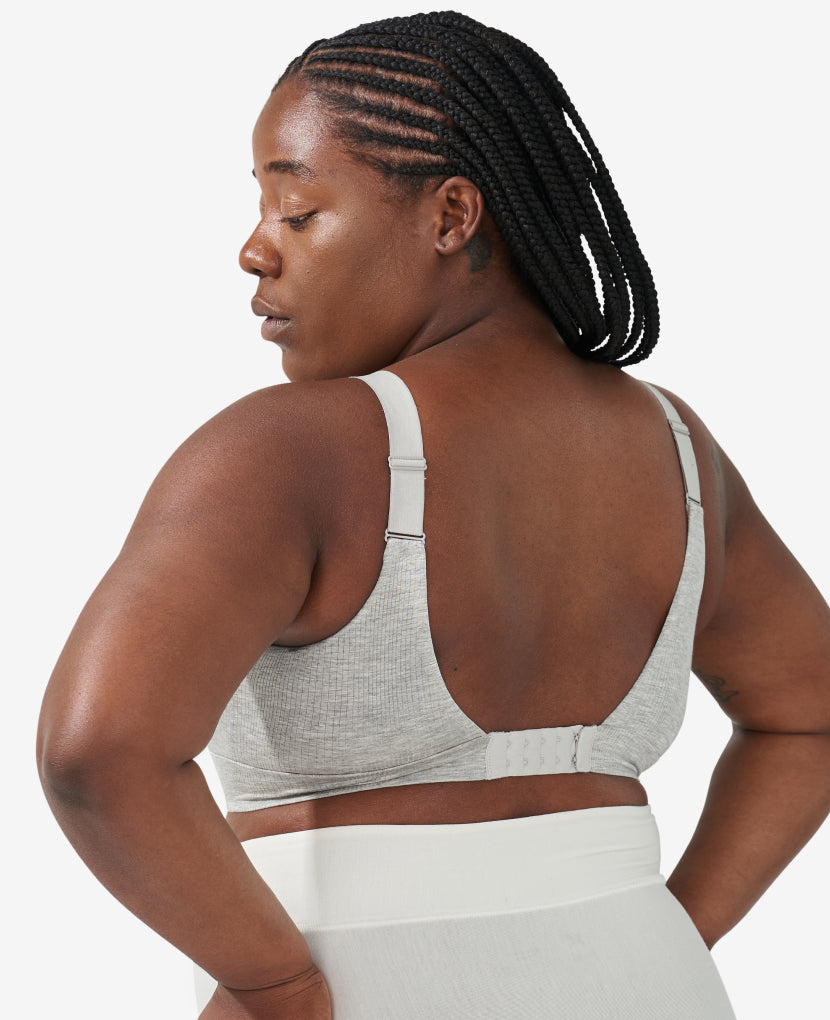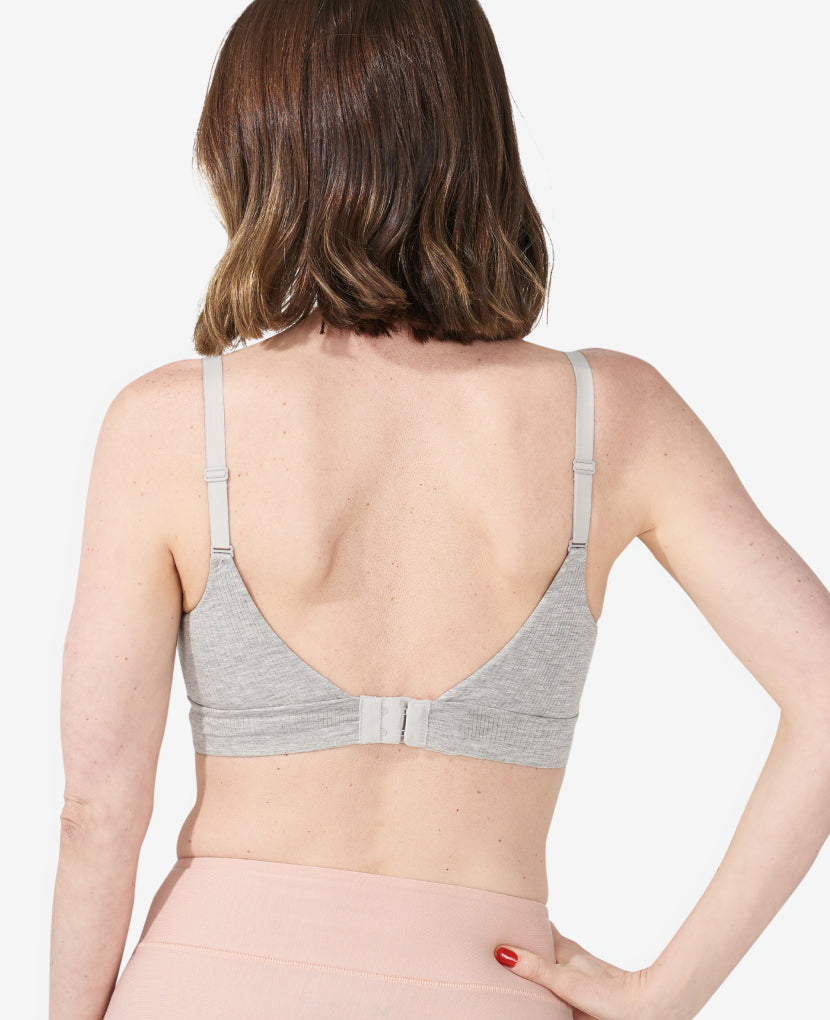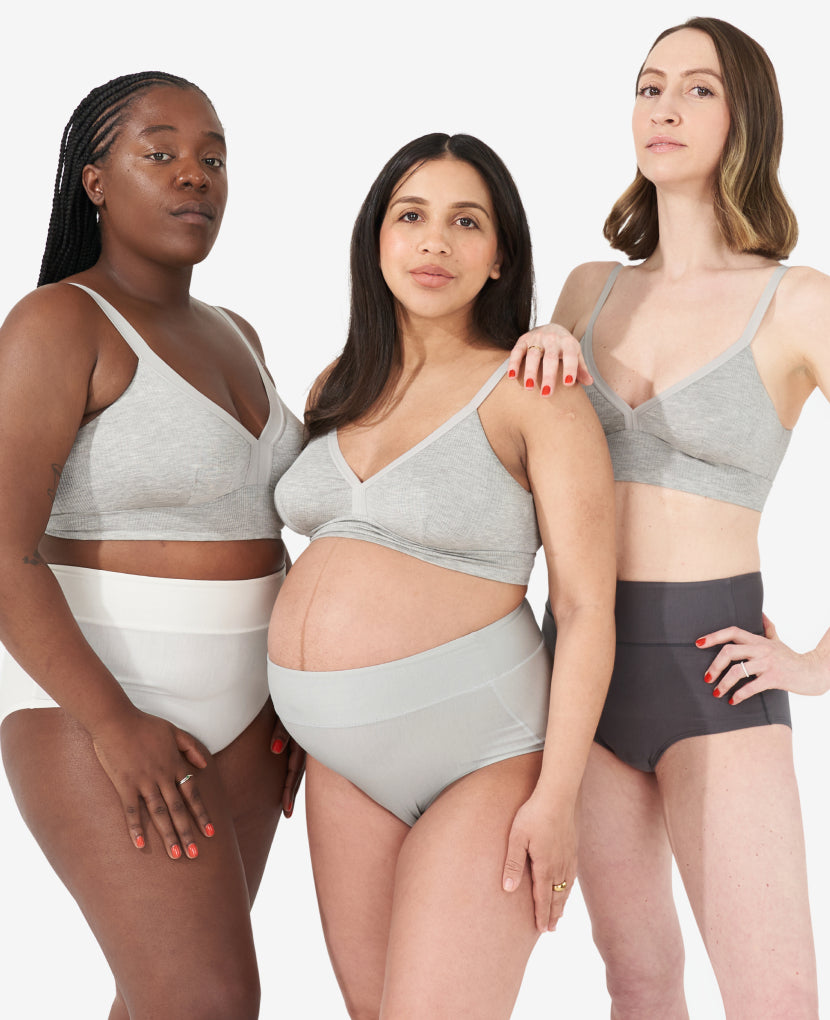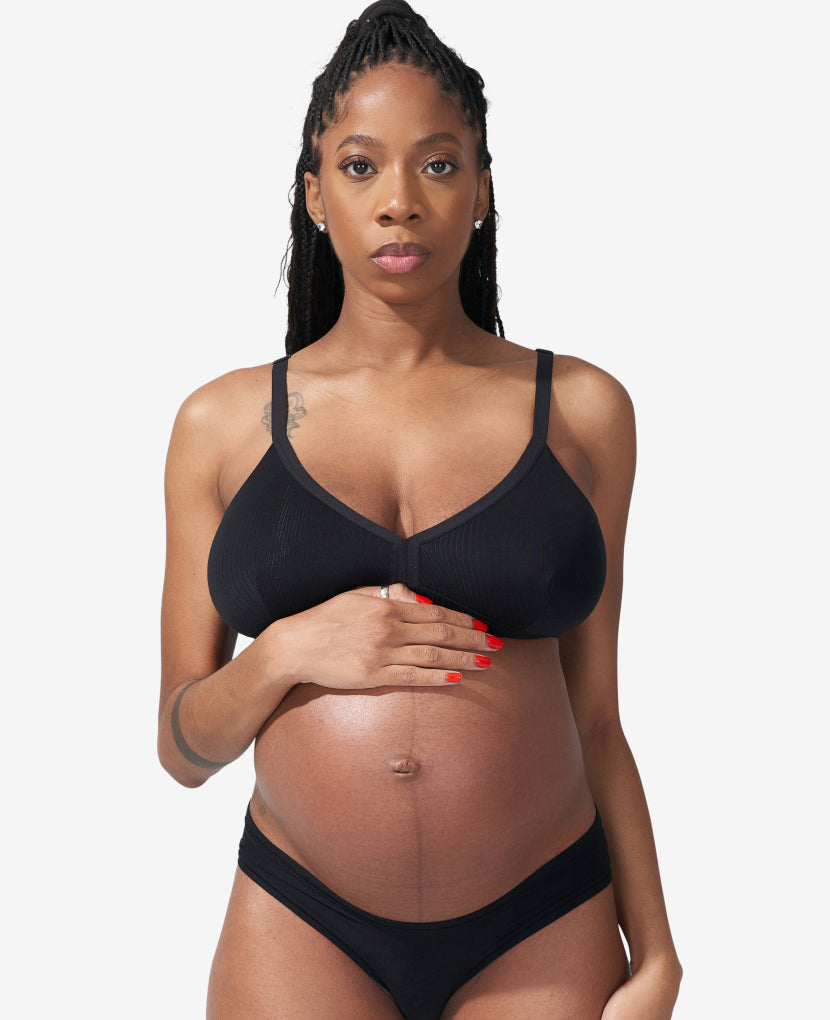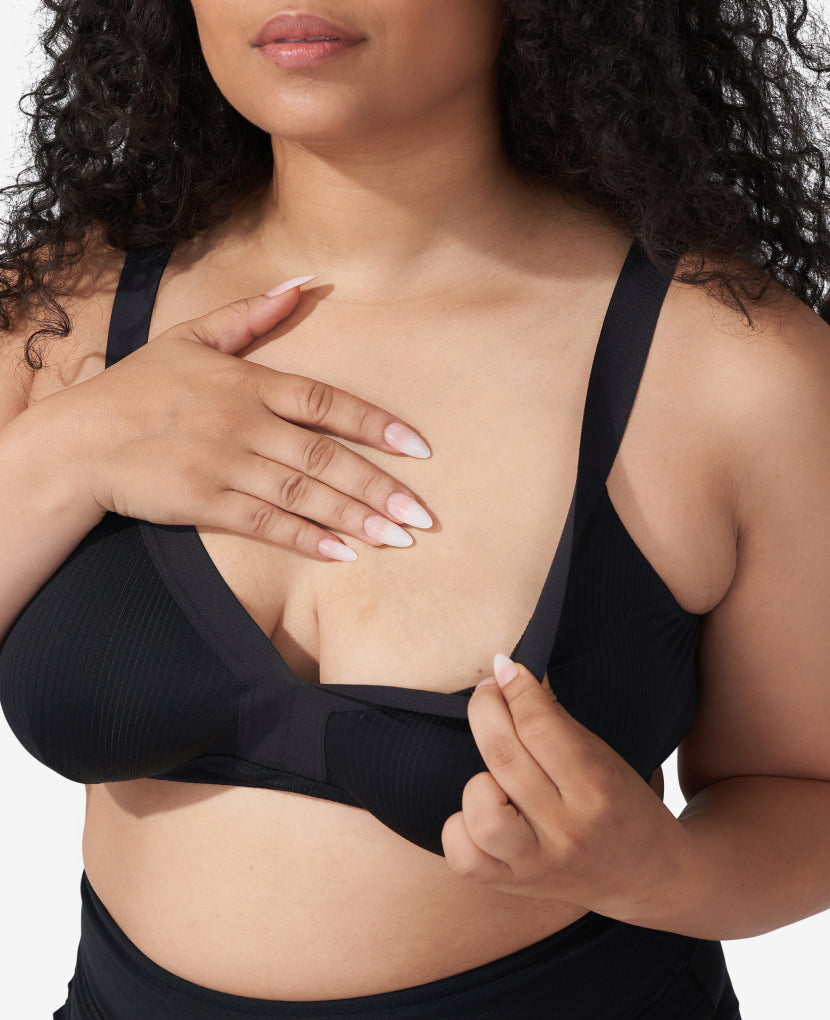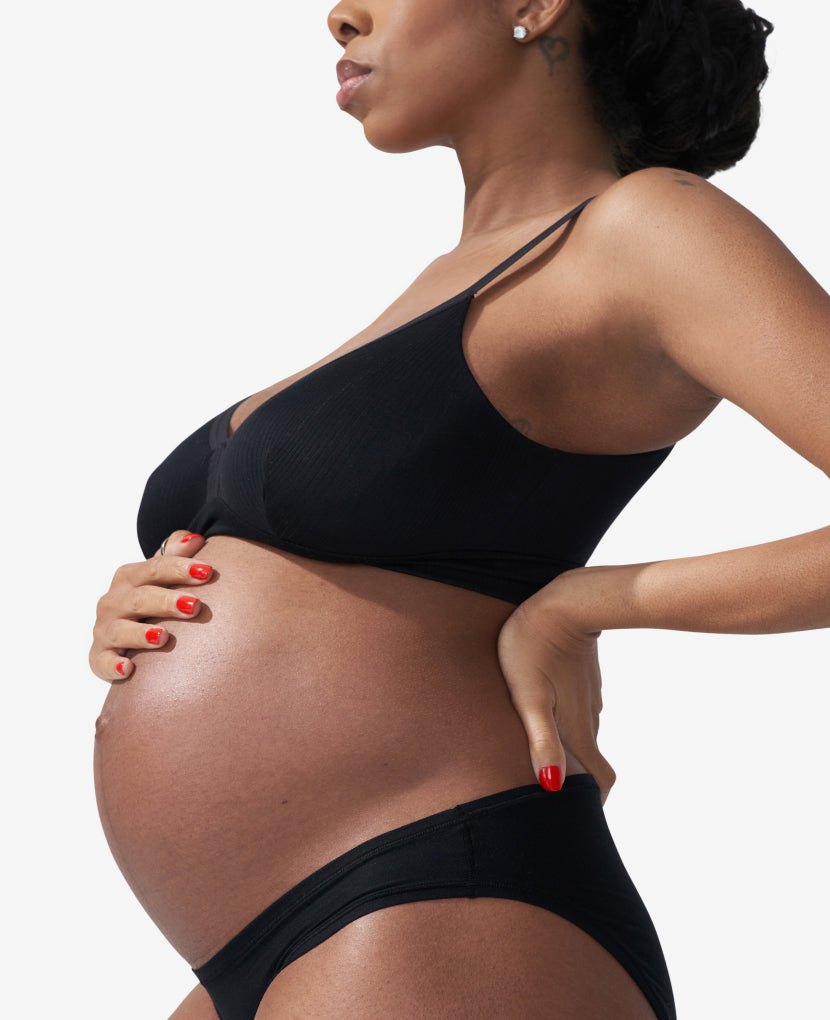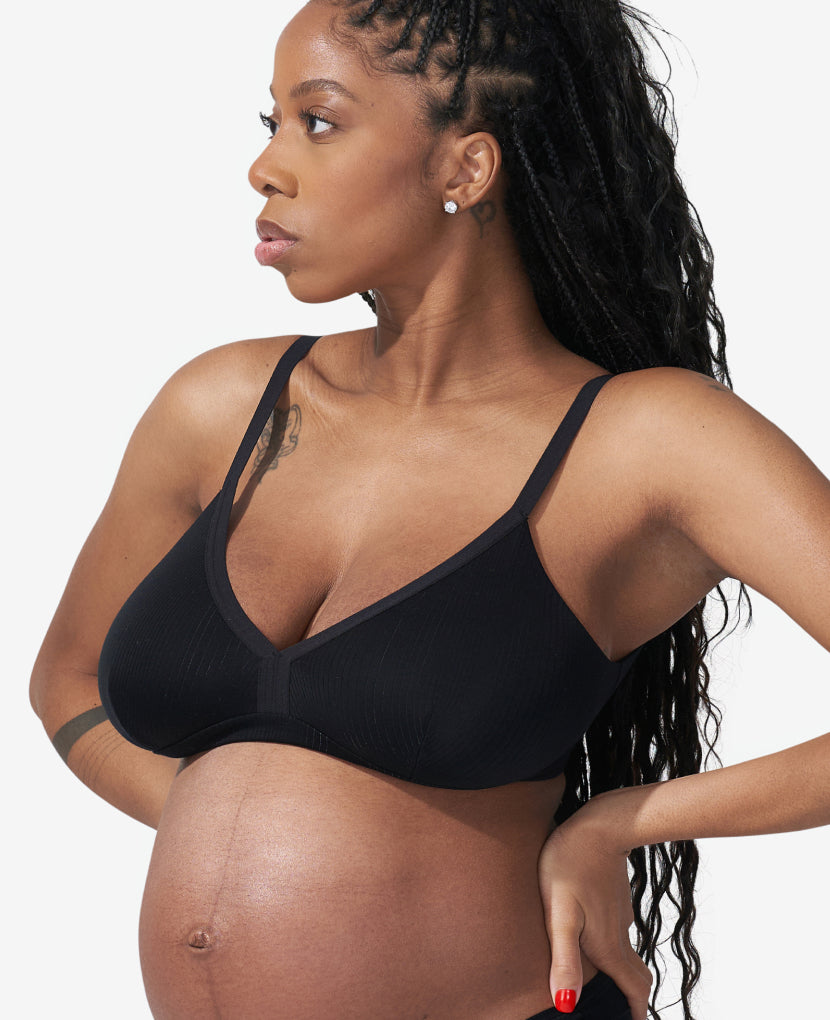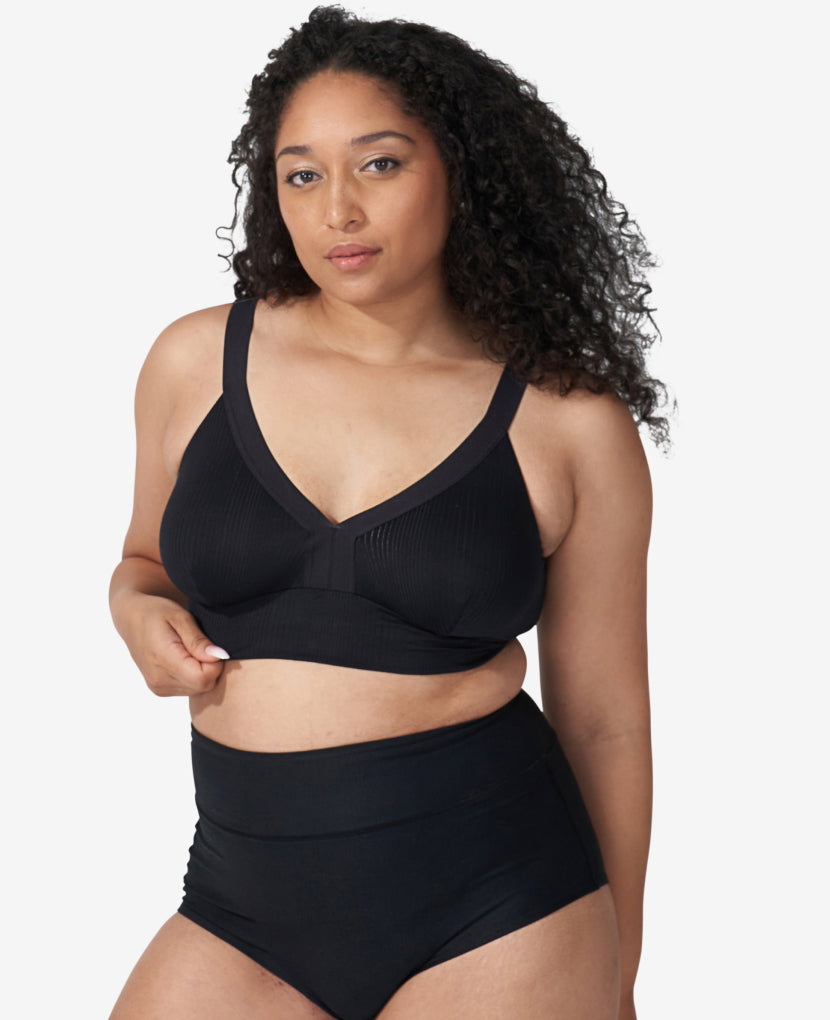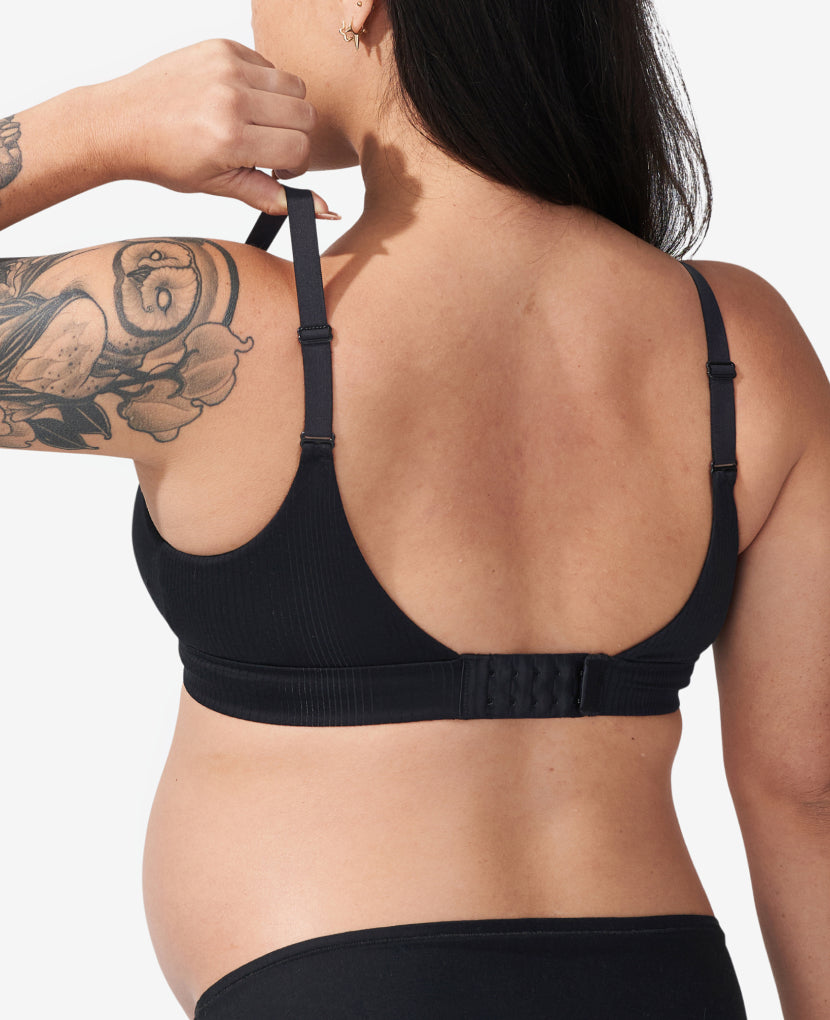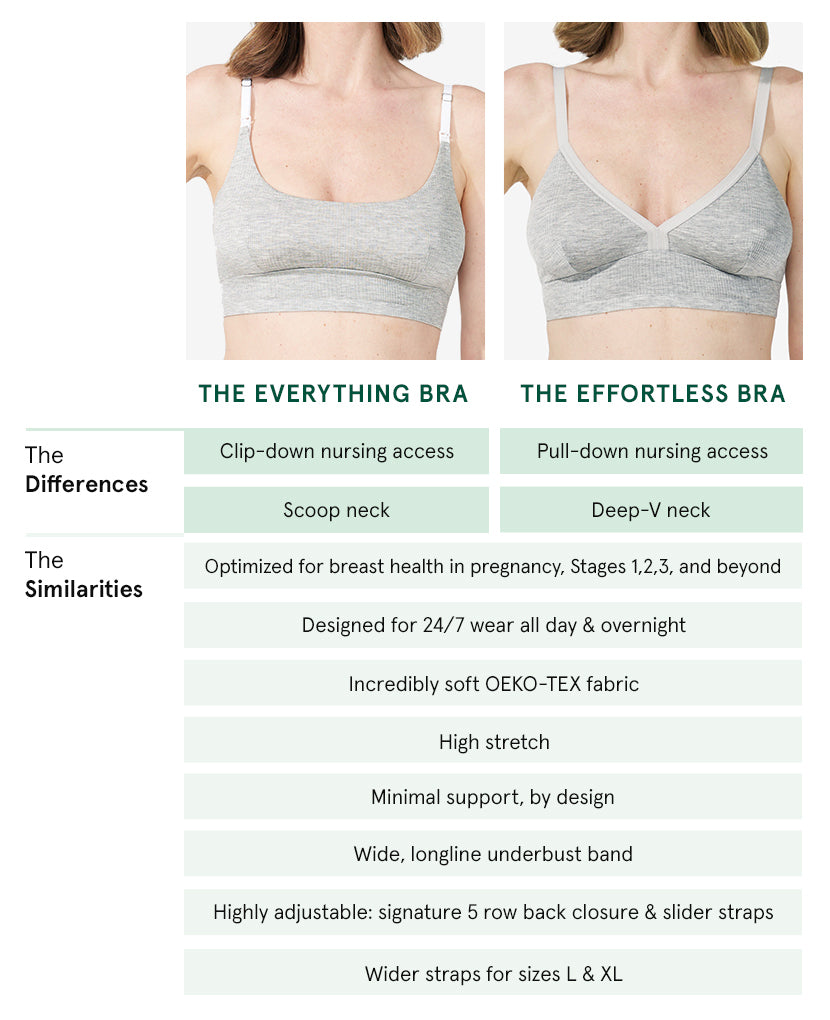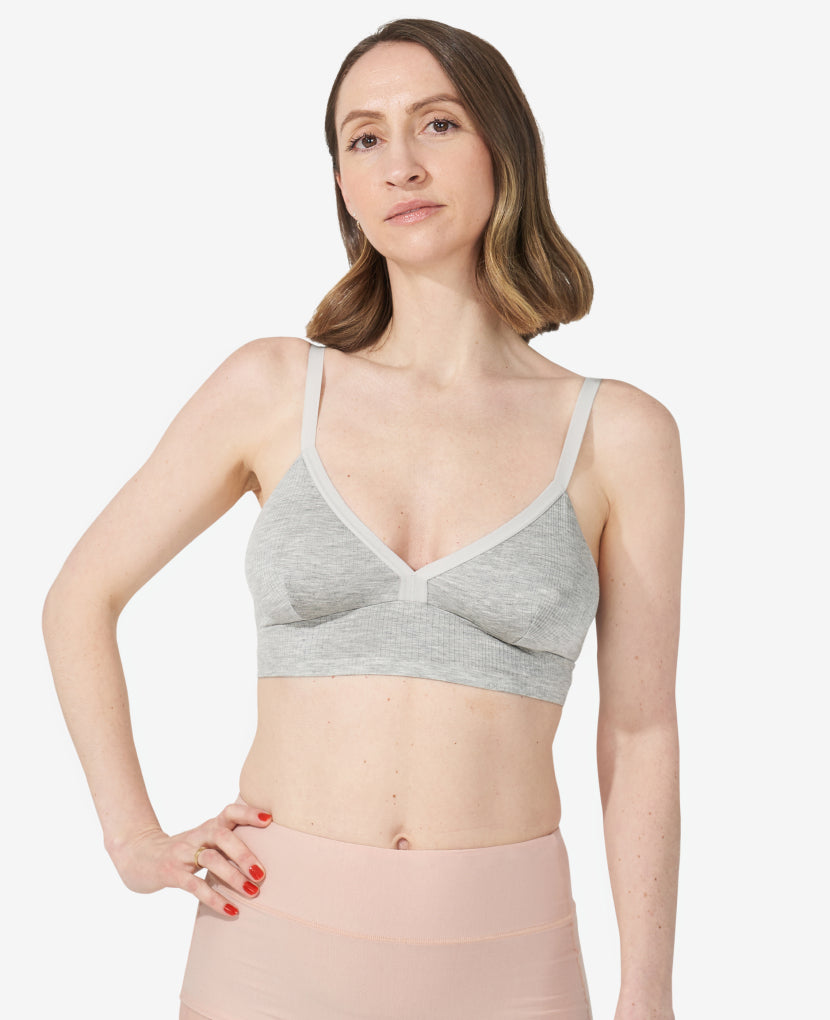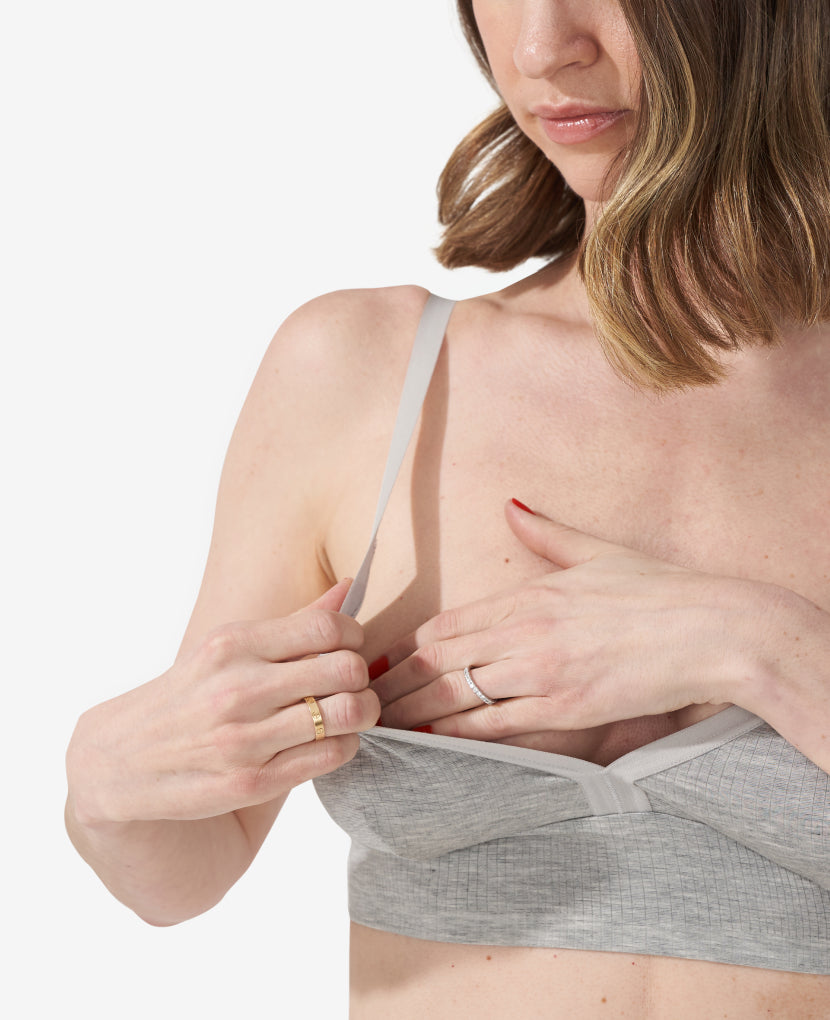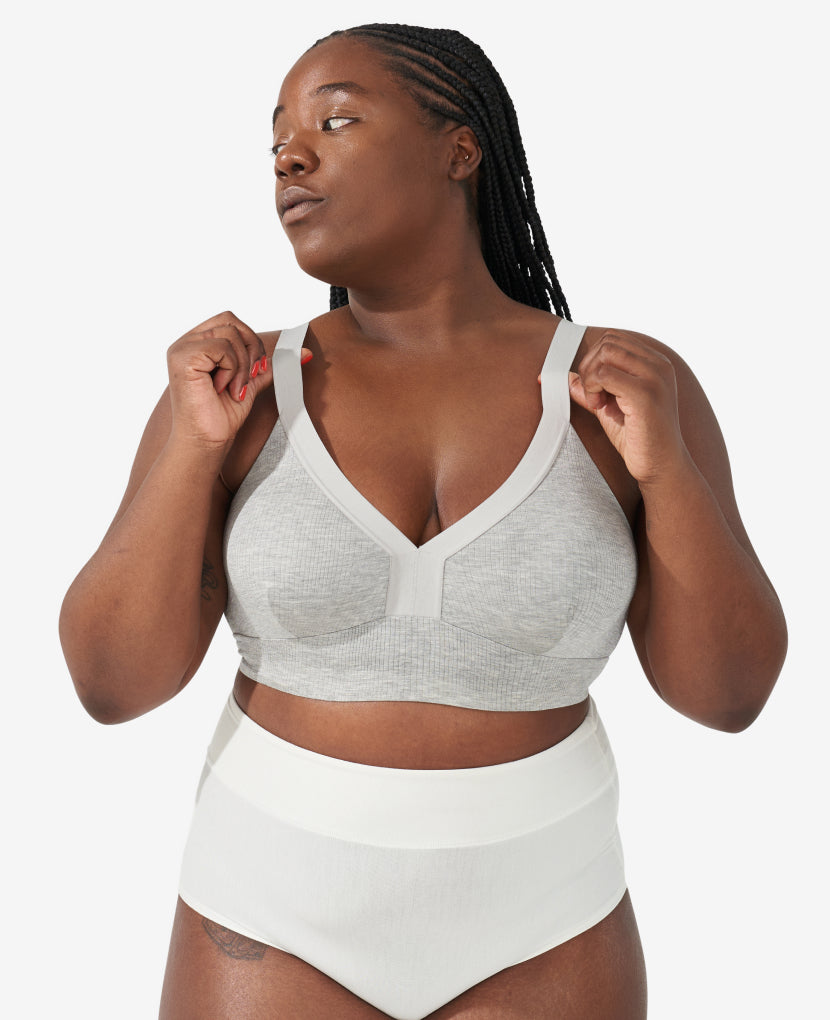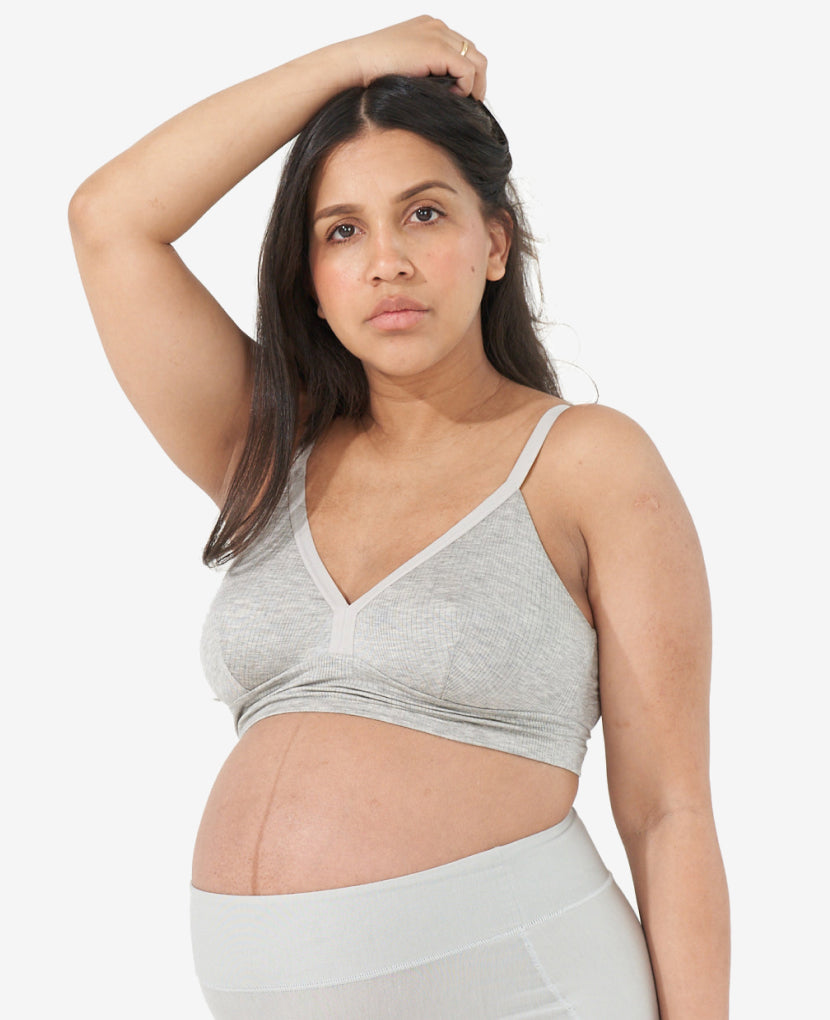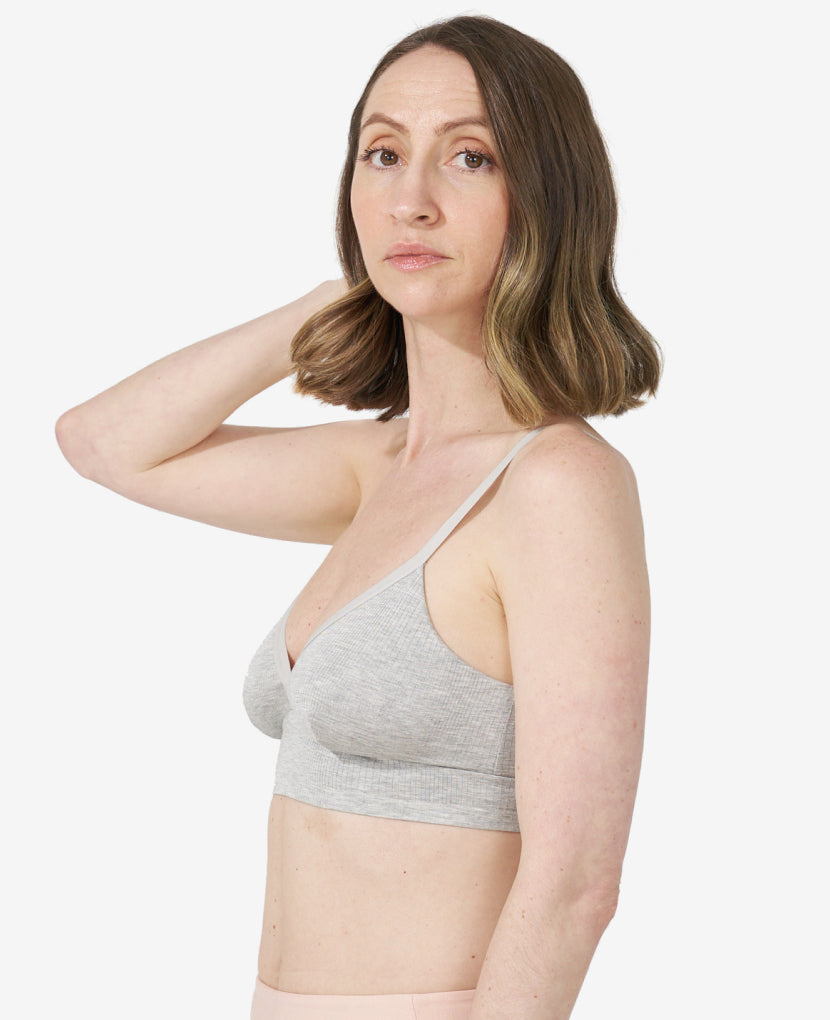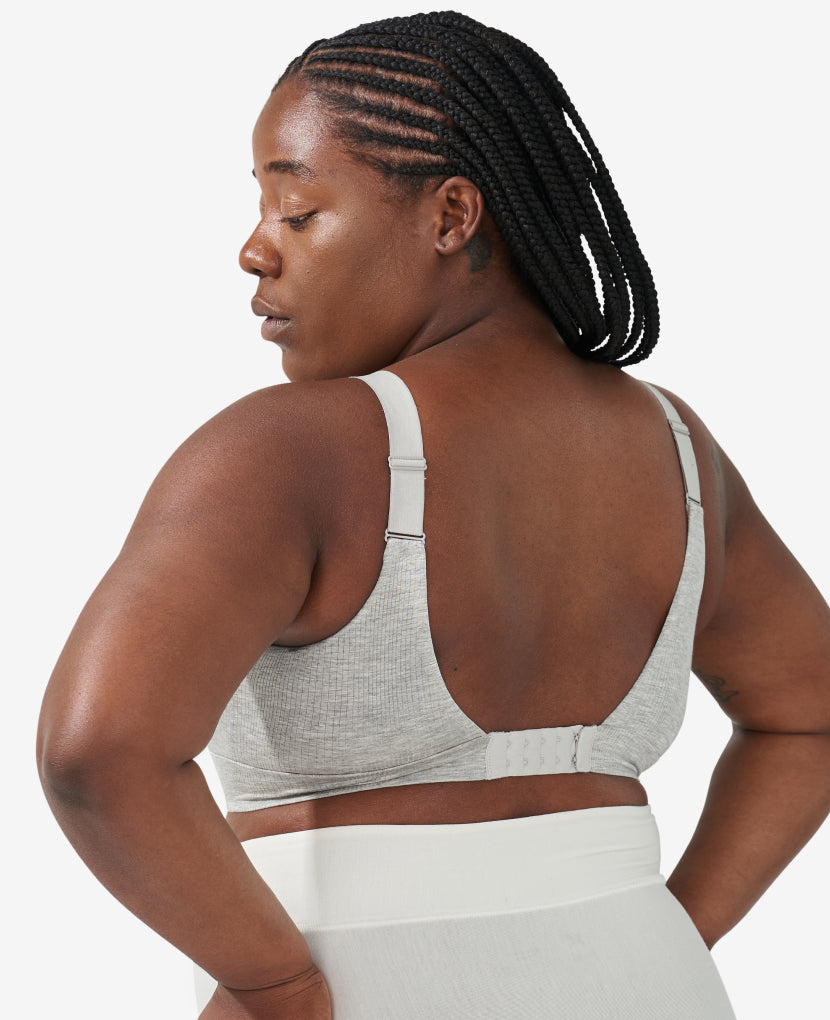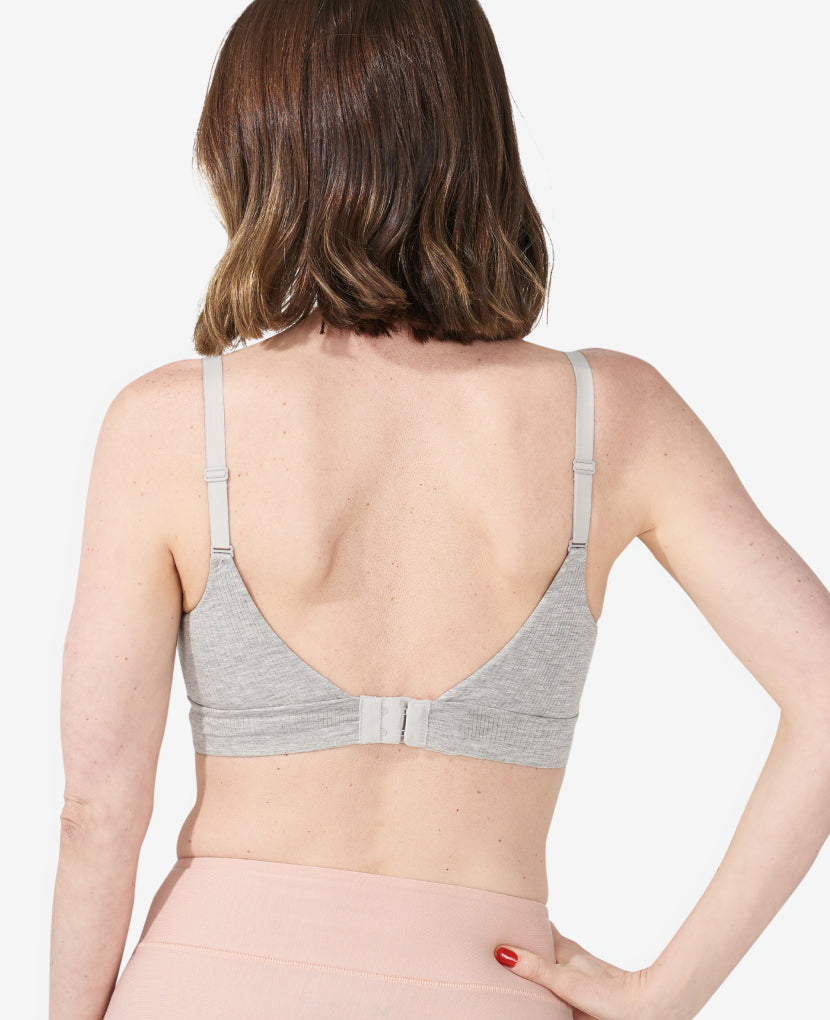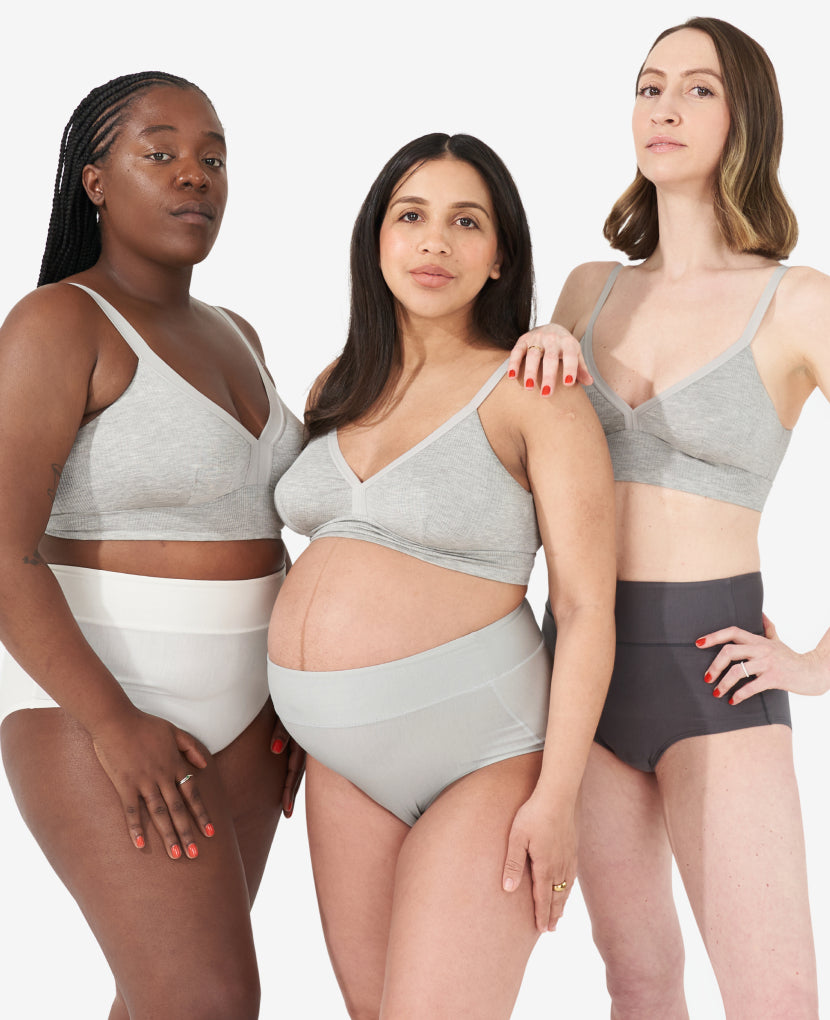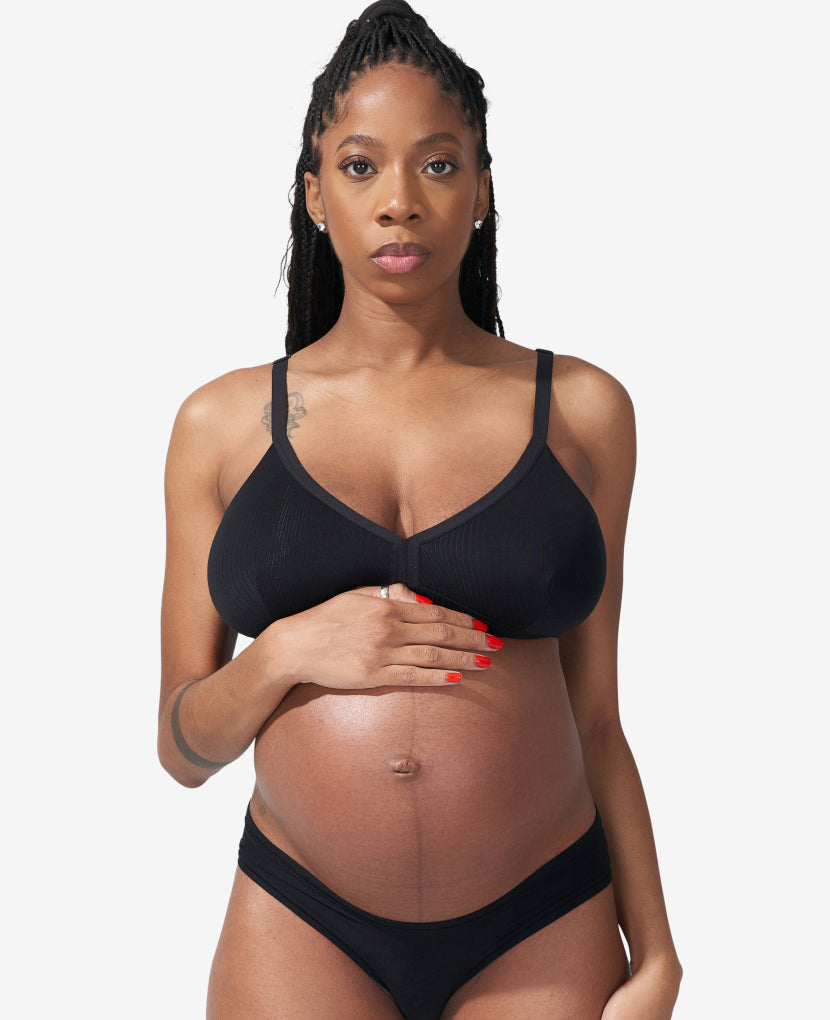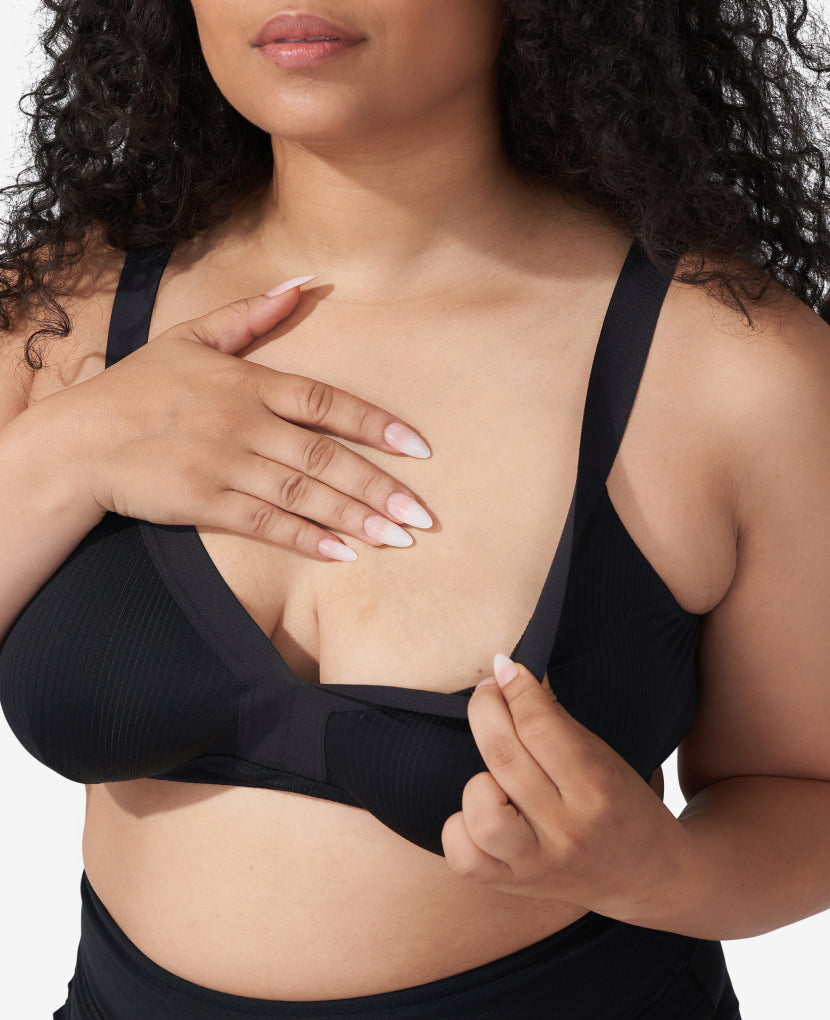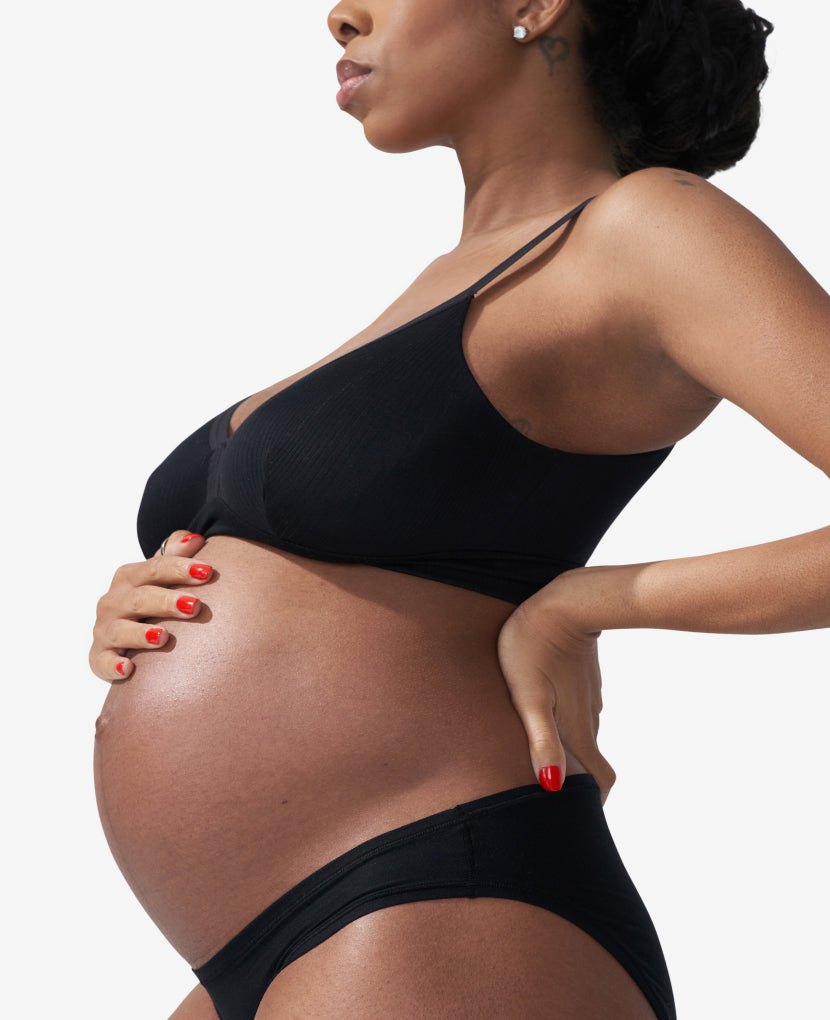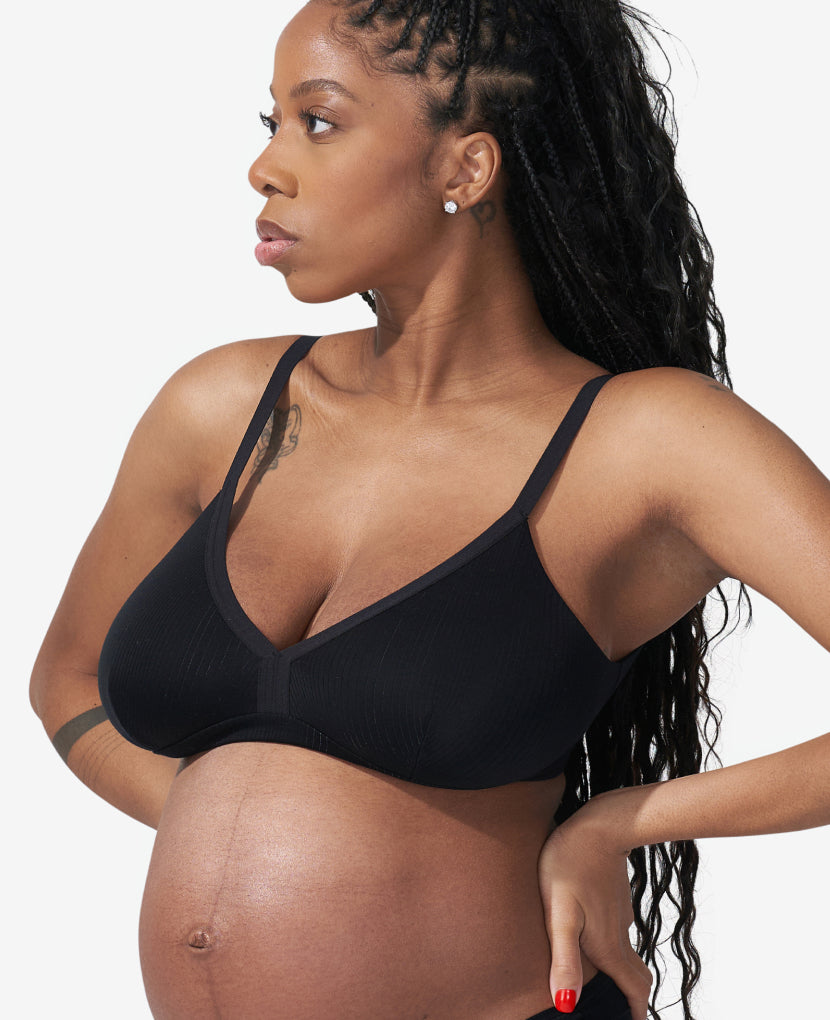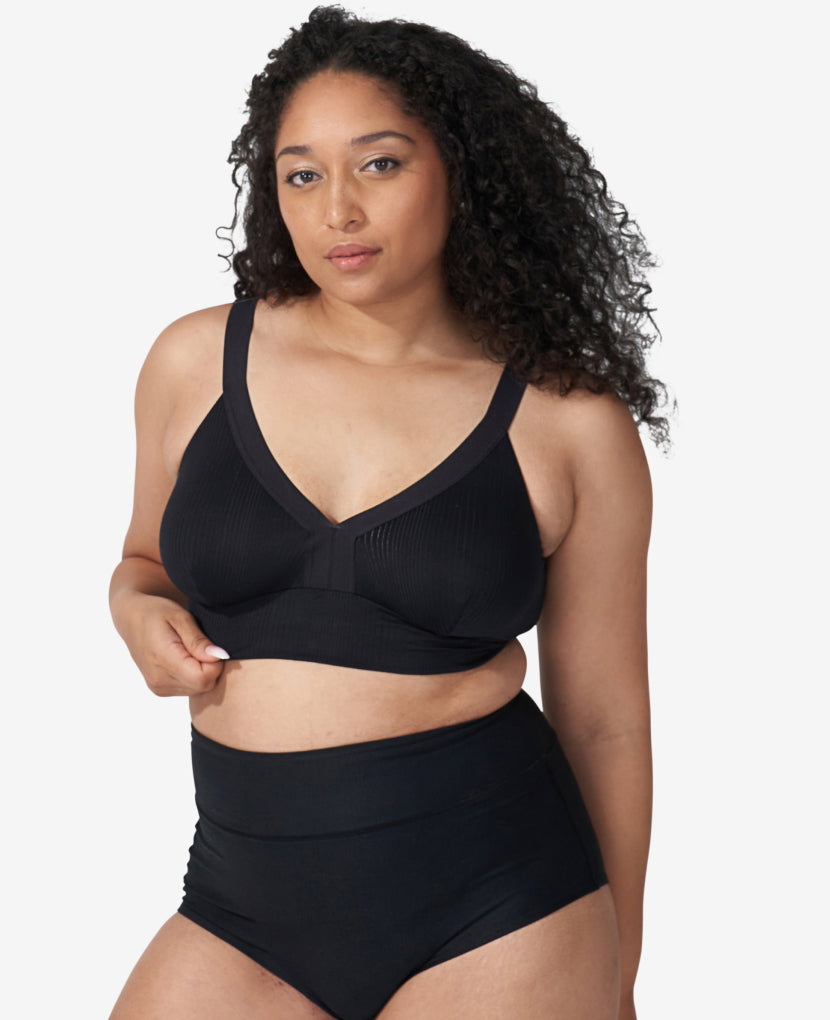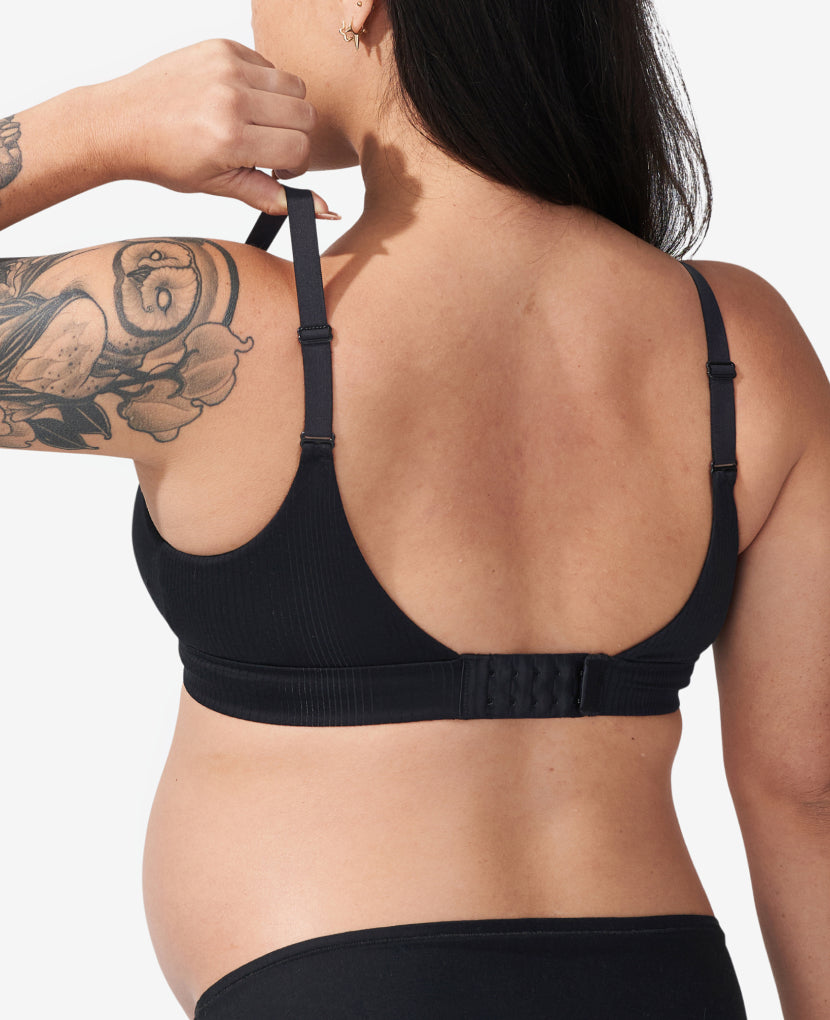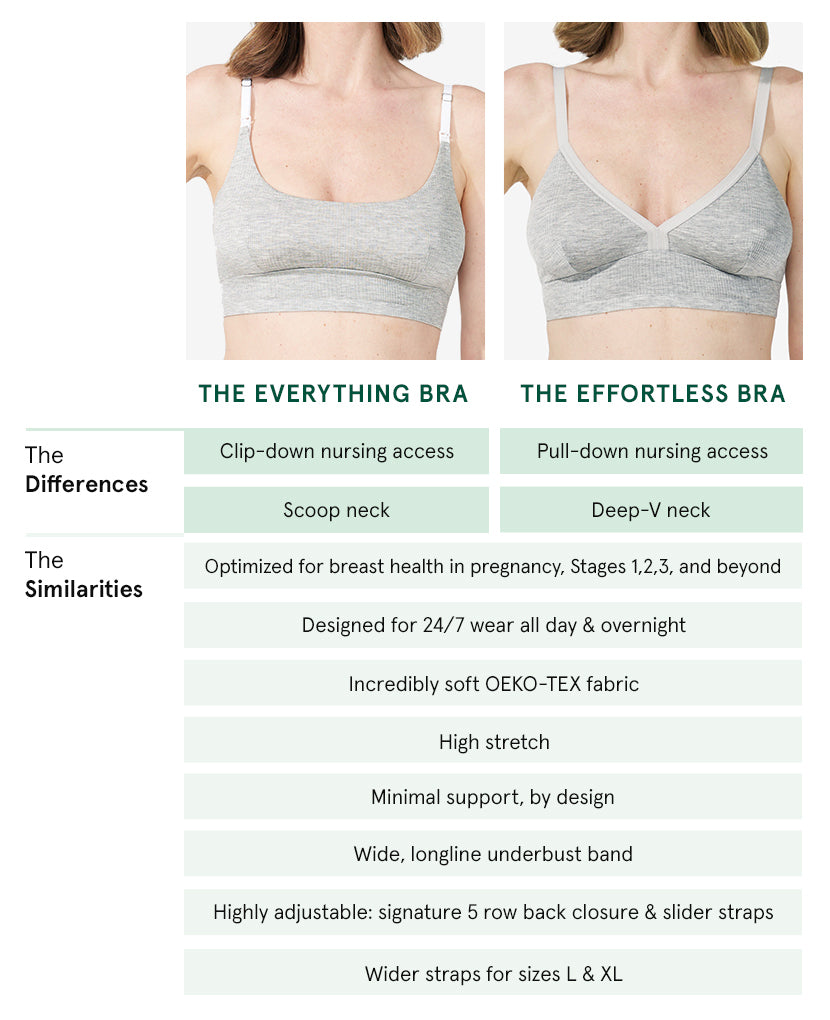 The Effortless Bra
A Stage 1-optimized pull-down bralette for 24/7 maternity through nursing comfort
$48
A Stage 1 pull-down bralette that takes you from pregnancy all the way through postpartum? That's our definition of effortless.
All the things you love about our award-winning Stage 1 design (The Everything Bra), now in a pull-down style.
No-fuss, clip-free nursing access is just one of the reasons you'll want to wear this ultra-comfy bra around the clock (and you can – it's ideal for sleeping). The chic triangle silhouette and long-line underbust band look and feel like a regular bralette, while the wildly-soft OEKO-TEX fabric is gentle on sensitive breasts and ultra-stretchy to accommodate fluctuations.
Our signature five-row back closure and adjustable straps mean it moves with you from pregnancy through every stage of your nursing journey. Like all our bras, it was designed with an IBCLC to optimize breast health, even in Stage 1 (months 0-3 postpartum), when the risk of breastfeeding complications like clogged ducts and mastitis is highest.
Size Guide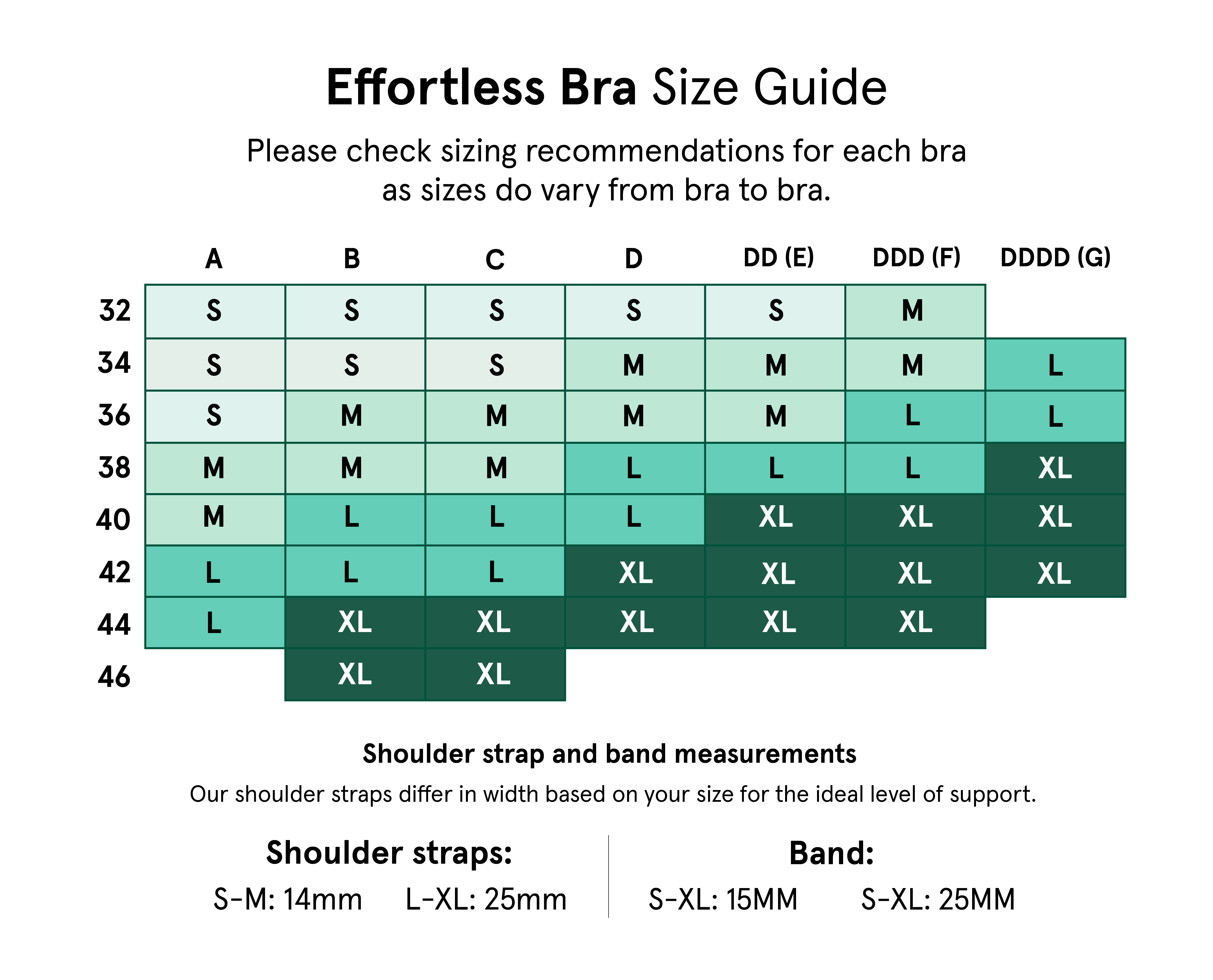 Thoughtfully Designed
Clip-free, pull-down quick and easy nursing access
High stretch, low tension elastic straps for comfortable pull-down access
Breathable, ultra-soft, super-stretchy OEKO-TEX fabric
Slider-adjustable straps for cup fluctuations
Signature five-row back closure for band size changes
Wide underbust band for light support with no points of constriction
Developed with a lactation consultant to optimize breast health from pregnancy through every stage of breastfeeding and beyond
FAQ
Is The Effortless Bra supportive?:
It offers minimal support by design. Traditional support can be restrictive and compressive. In Stage 1 of breastfeeding, when engorgement and fluctuations are most common, it's important not to have any acute points of constriction to avoid issues like clogged ducts and mastitis.
What does Stage 1 of breastfeeding mean?
We worked with an IBCLC lactation expert to break breastfeeding into three Stages, based on your body's needs across the journey. Stage 1 covers the early days of feeding, months 0-3. For a more in-depth explanation on The Stages of Breastfeeding, click here to learn more.
Can I wear The Effortless Bra in all stages?
Yes. Because it has zero points of constriction and offers super-stretchy coverage, it's safe to wear 24/7 through every stage, even for sleeping. And our ultra-soft material makes it comfortable enough that you'll want to, from pregnancy to postpartum and beyond.
Is sizing different during pregnancy?
No. This bra was designed with lots of stretch to flex as your ribcage and cup size expand during pregnancy and early breastfeeding, so our size guide is the same for pregnancy and postpartum. That said, if you're in between sizes while pregnant, size up. If you're in between sizes in the first 6 months of breastfeeding, size down.
Why Pads Aren't Included
In Stage 1, we don't recommend fixed or structured padding. During this time, the risk of experiencing common breastfeeding ailments is at its highest. If you are looking for coverage that padding provides, we highly recommend utilizing solutions like nursing pads. Our Low Profile Breast Pads were designed exactly for this – because they are not fixed and against your breast, they provide mobility that is necessary when experiencing engorgement. While fixed padding is not optimized for Stage 1, if you do prefer coverage with a more built-in feel, we designed a slit on each side for you to insert your own padding.
Our Straps
This soft elastic strap is designed to look minimal, but like all of our bras, we increase the width for sizes L-XL, ensuring additional support without digging into skin for a range of body shapes.
A Note For Smaller Cup Sizes
To ensure that the cups in this style stay under your breast while you nurse, release a little slack in your strap before pulling down.
Stage 1 Optimized Nursing Bra:
When to wear it: From pregnancy through all stages of nursing, and beyond
Fit notes: This is our super-stretchy bra with light support and no padding — and that's by design.
Guidance from our IBCLC: In the first three months of breastfeeding (Stage 1), your bra should stretch to accommodate the growing and often engorged milk-producing areas of your breasts. This is especially true in Stage 1 when engorgement is common. Restrictive support can increase the risk of common breastfeeding ailments that are often linked to the early cessation of breastfeeding.
This is why our bras don't have firm or shaping padding either (though we did include slits if padding is desired). Our Non-Slip Breast Pads can be used to increase coverage.
Did you know that many of the most common breastfeeding issues are linked to the bras we wear?
It is true! Wearing a bra that you like shouldn't expose you to features that can negatively impact milk supply, or potentially increase risk of clogged ducts and mastitis. That's why we created a system for selecting bras that makes it easy to optimize for breast health (check out The Stages of Breastfeeding for choosing a nursing bra that's right for you), and designed all of our bras together with a lactation consultant.
Materials & Care
Materials: OEKO-TEX 49% Viscose; 43% Micromodal; 8% Elastane
Care: Machine wash cold on a gentle cycle. Do not bleach. Line dry. Low iron.
Designed in NYC and manufactured in China.