The Everything Bra
An ultra-soft 24/7 maternity-to-nursing bra
$48 Sold Out
Sizes M, L and XL coming back in stock soon! Sign up to be notified.
There's a reason we call this the Everything Bra: made from a super-soft, stretchy fabric, can be worn 24/7, and from pregnancy through all stages of nursing, it does it all. It's designed to accommodate changing bodies so you can wear it as your maternity bra, your sleep bra, and your Stages 1-3 bra for nursing! Designed with an IBCLC to potentially lower risk of clogged ducts and mastitis.
"This bra feels like boob clouds. It's the softest, gentlest bra and undie I've ever worn made by one of my favorite companies"  - Brooklyn Decker
Size Guide
FINDING YOUR SIZE
Your rib-cage and cup size may increase over the course of pregnancy, and even more in the first few months of breastfeeding. The Everything Bra was designed to have flex upwards in both band and cup size to accommodate the normal fluctuations that many people experience in pregnancy and breastfeeding.
If you are pregnant and in between two sizes, we recommend sizing up.
If you are in your first 6 months of breastfeeding and in between sizes, we recommend selecting the smaller size.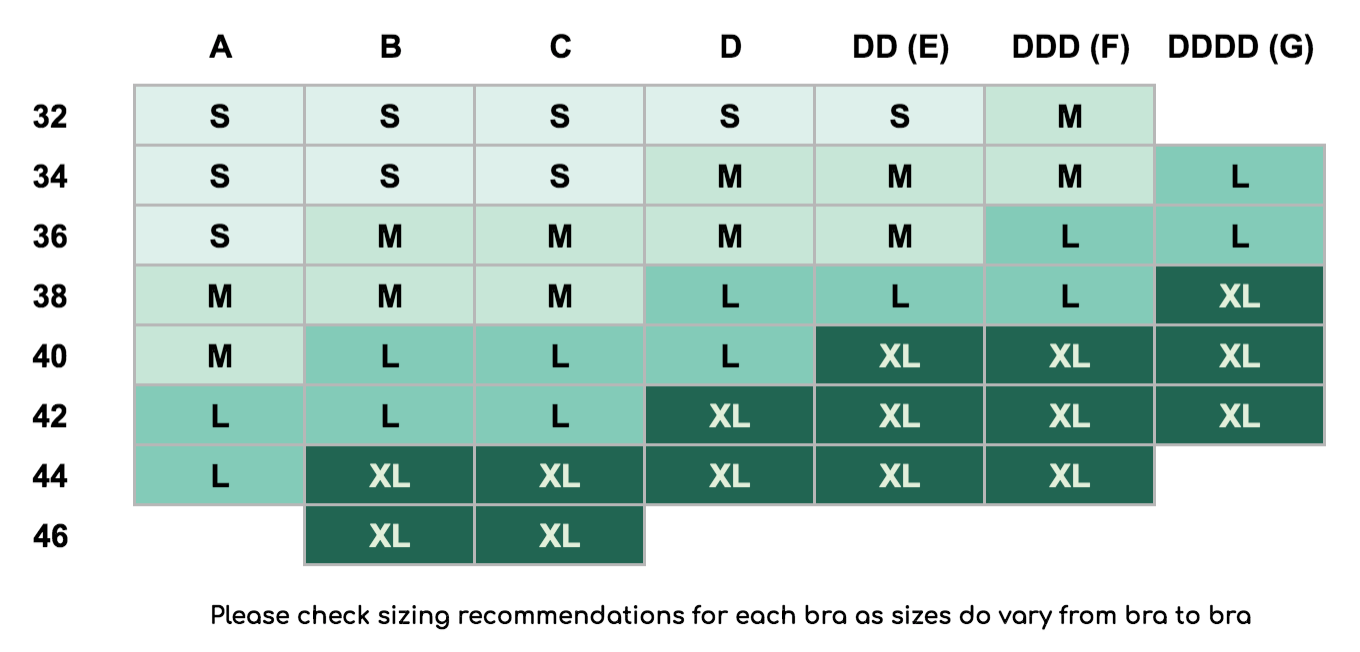 Details & Features
Breathable, cooling, ultra-stretchy, and ultra-soft fabric
Nursing clips for easy access, elastic neckline for whenever faster access is needed
Front slider-adjustable straps for ease with cup fluctuations throughout the day
Extended back closure, ensuring comfort no matter how unpredictable your band or cup size may be
Designed with an IBCLC to ensure no acute points of constriction or compression, which can potentially contribute to clogged ducts and mastitis
Stage 1 Optimized Nursing Bra:
When to wear it: From pregnancy through all stages of nursing, and beyond
Stage 1 Bras are designed to maximize comfort, ease, fit and style as your body adapts to changing band and cup sizes, sensitivity from engorgement and increasing levels of milk production following giving birth.
Did you know that many of the most common breastfeeding issues are linked to the bras we wear?
It is true! Wearing a bra that you like shouldn't expose you to features that can negatively impact milk supply, or potentially increase risk of clogged ducts and mastitis. That's why we created a system for selecting bras that makes it easy to optimize for breast health (check out The Stages of Breastfeeding for choosing a nursing bra that's right for you), and designed all of our bras together with a lactation consultant.
Materials & Care
Materials: OEKO-TEX 49% Viscose; 43% Superfine Lenzing Micromodal; 8% Elastane
Care: Machine wash warm. Do not bleach. Tumble dry low. Cool iron.
Designed in NYC and manufactured in China.
How To Choose A Nursing Bra
Unsure of what kind of nursing is right for you and your body? Want to make sure that you are reducing factors that potentially contribute to clogged ducts and mastitis as much as possible? Check out our easy guide to choosing the right bra here. We've made it as easy as 1-2-3