Bodily Care
Karrie Locher x Bodily: Breastfeeding Kit
Nursing & pumping essentials curated by influential postpartum nurse, Karrie Locher
$90 Sold Out
Nurse, pump, and do anything with the KL x Bodily Breastfeeding Kit. Curated by Karrie after her the birth of her fourth child, this collection brings her Bodily breastfeeding favorites together in a single kit.
The essentials include our Do Anything Bra for nursing and pumping, Nip Protect — a plant-based alternative to lanolin — to soothe and protect dry nipples, and 4 pairs of organic, washable Non-Slip Breast Pads for maximum leak protection and minimal visibility.
All these products are designed with lactation consultants and are Karrie Locher-approved. Give the gift of breastfeeding support to a loved one (or yourself).
What's in the Kit?
1 Do Anything Bra (hands-free pumping and nursing bra)
4 Pairs of Non-Slip Organic Breast Pads (Full Coverage)
1 oz Nip Protect (organic plant-based nipple balm)
Details & Features
The Do Anything Bra:
Enables hands-free pumping with leading pump brands (Spectra, Ameda, Motif Medical, and most Medela flanges - up to 8cm flange diameter. Not compatible with silicone-rimmed flanges)
Sliders for bra-strap adjustment positioned in the front so you can quickly and easily tighten when pumping and loosen when not
Straps convert to racer back for additional support
Smooth, luxuriously soft yet supportive non-toxic certified OEKO-Tex fabric
Easy front clip nursing access
Extended back closure, ensuring comfort regardless of fluctuations in breast size throughout the day
Size Guide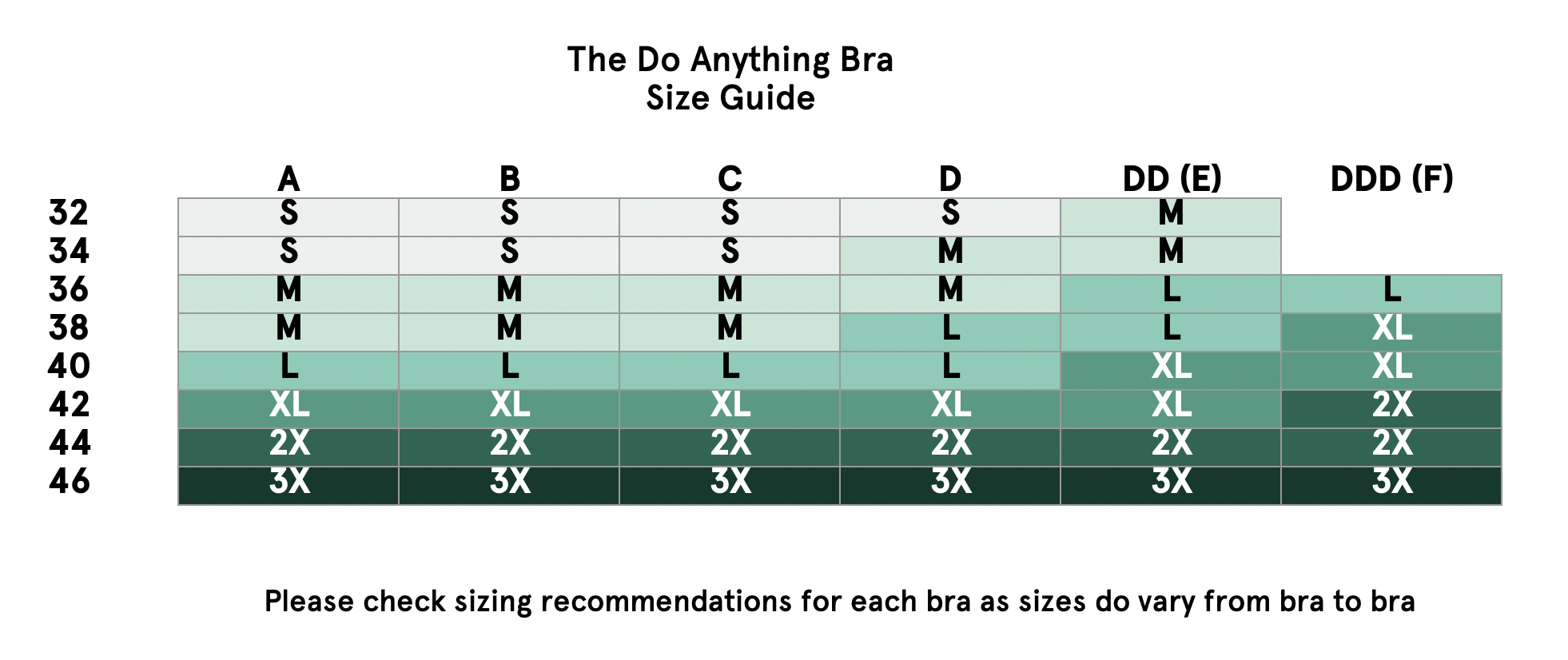 How To Wear The Do Anything Bra
How to wear it in Stage 3 (6+ months):
When pumping: Tighten the straps and the hook & eye in the back to tighten the bra and maximize the pump parts suction with your breast
When done pumping: Loosen the straps as much as possible and loosen the hook & eye in the back so that the bra no longer offers any compression or lift.
If for some reason you are prone to overproduction and engorgement and you happen to get a clogged duct (even while doing all of this), we'd recommend that you reduce all-day wear until you reach the 6-month threshold.
How to wear it in Stages 1-2 (0-6 months):
During the first 6 months of breastfeeding, we recommend you loosen the Do Anything Bra when you're not pumping so it offers no lifting or acute points of compression.
What's Included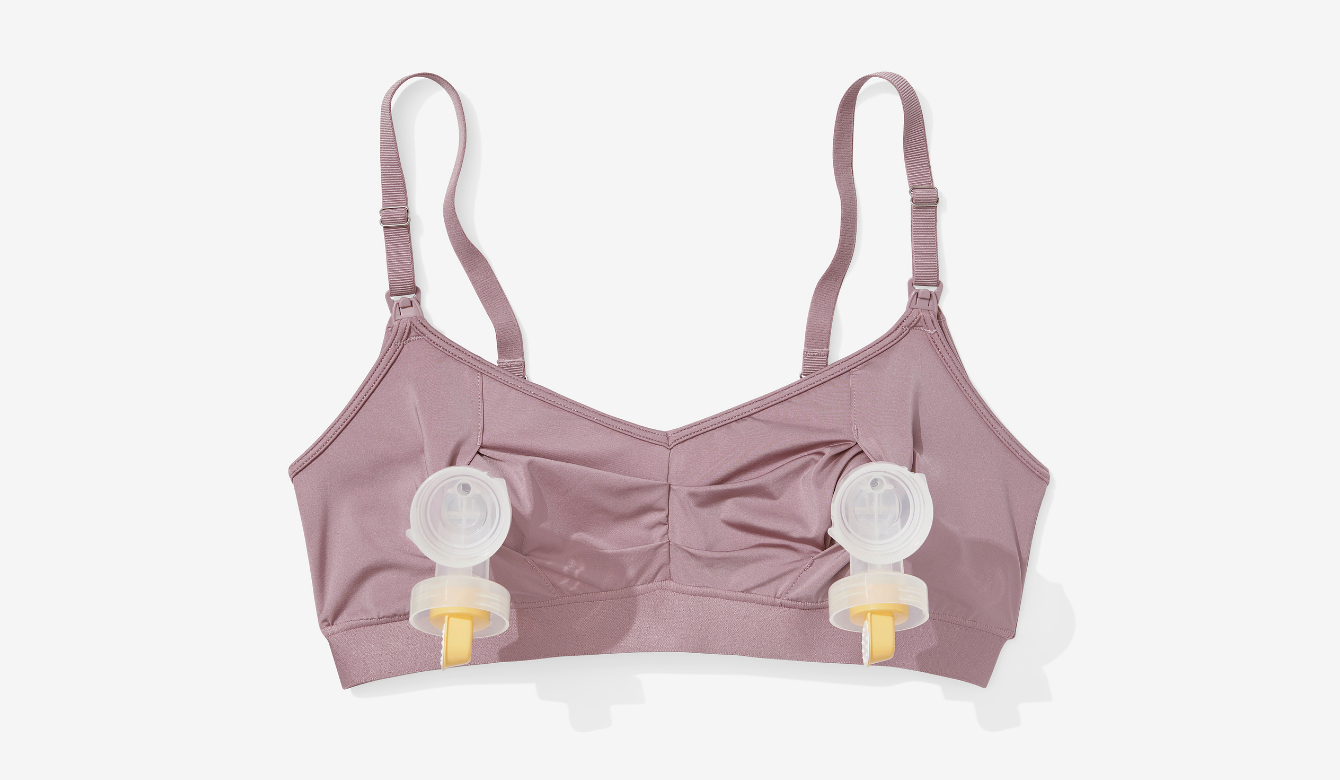 DO ANYTHING BRA
Developed in collaboration with a lactation consultant, this hands-free pumping bra was meticulously designed for parents on the go who need to be able to pump, nurse and stay active. It's smooth, soft, stretchy, and made of non-toxic OEKO-Tex certified fabric — and supportive enough to hold pumping parts and milk.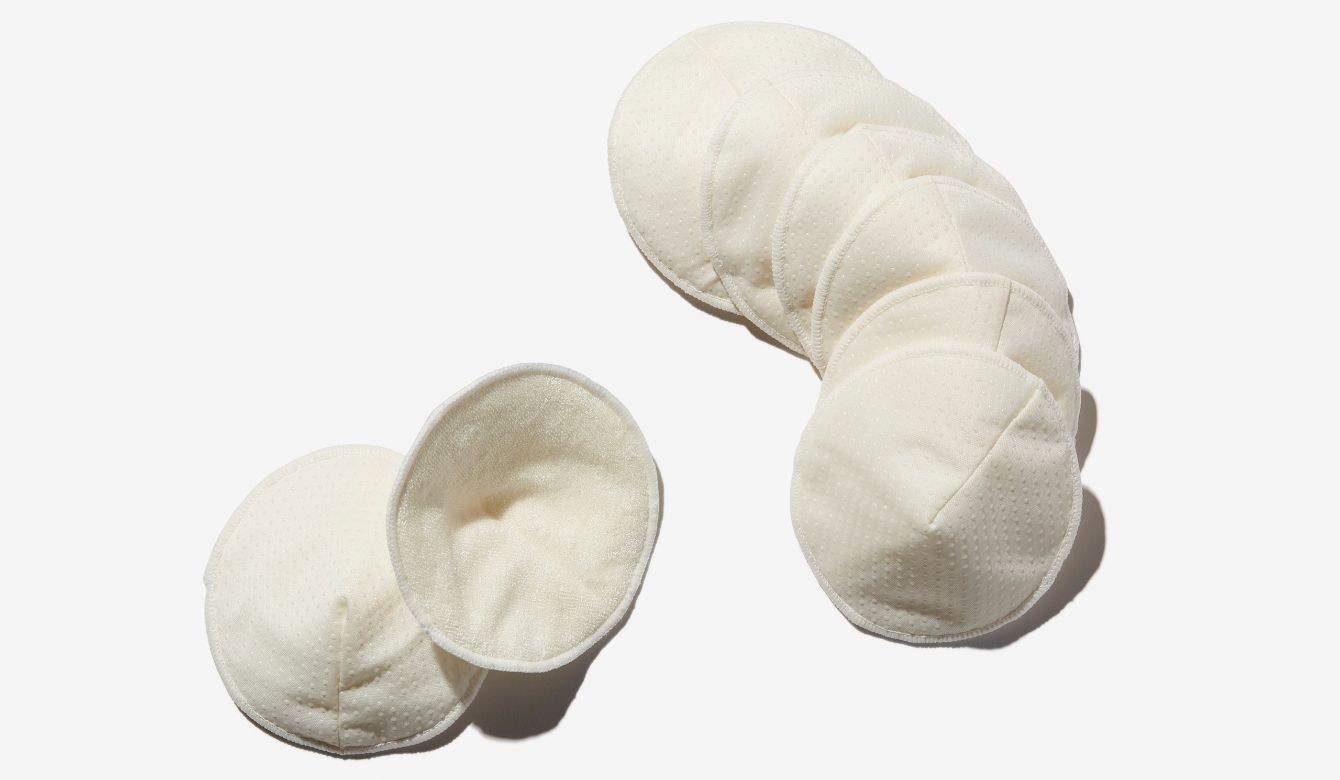 NON-SLIP ORGANIC BREAST PADS (4 PAIRS)
With a unique grippy silicone exterior, our organic & reusable Non-Slip Breast Pads are designed to stay put where they need to be — on your breast — and don't end up where you want them least. Our Full Coverage Breast Pads offer max absorption and worry-free protection.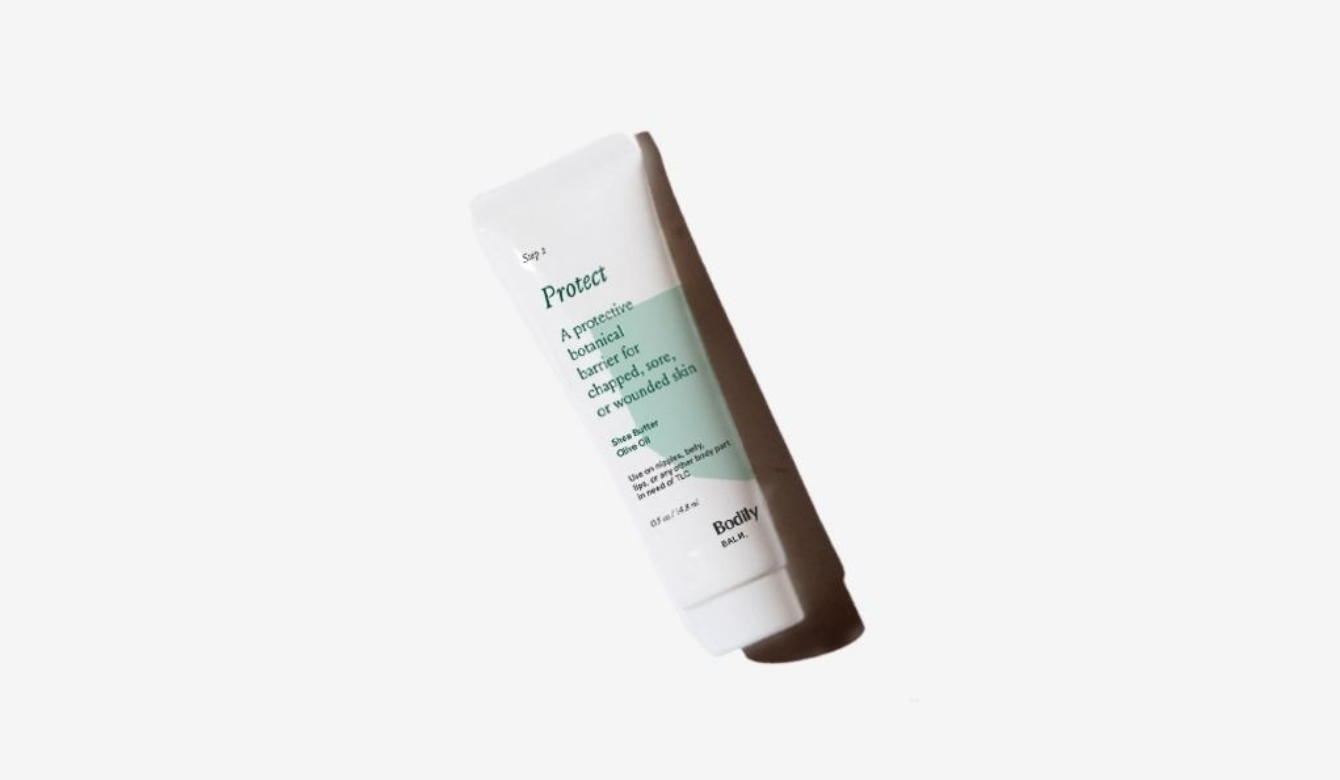 NIP PROTECT (1 OZ)
All-natural, cruelty-free, and organic. Rich in shea butter and olive oil, Nip Protect is a plant-based alternative to lanolin that seals in moisture for chapped or sore skin.
Stage 3+ Optimized Nursing Bra
When to wear it: In maternity, through Stages 1 and 2 as long as you're pumping and nursing regularly when engorged, and all day long in Stage 3 and beyond.

Fit notes: This is our super-soft moderately supportive bra for nursing, pumping, and doing anything. (For additional support, you can convert the straps to racer-back.)
Guidance from our IBCLC: At the 6-month mark of breastfeeding, you can welcome back more supportive features as you are less likely to have issues such as clogged ducts, mastitis, and engorgement that are often caused by constriction. However, the risks are not gone entirely, which is why the Do Anything Bra has no acute points of constriction.
About Karrie Locher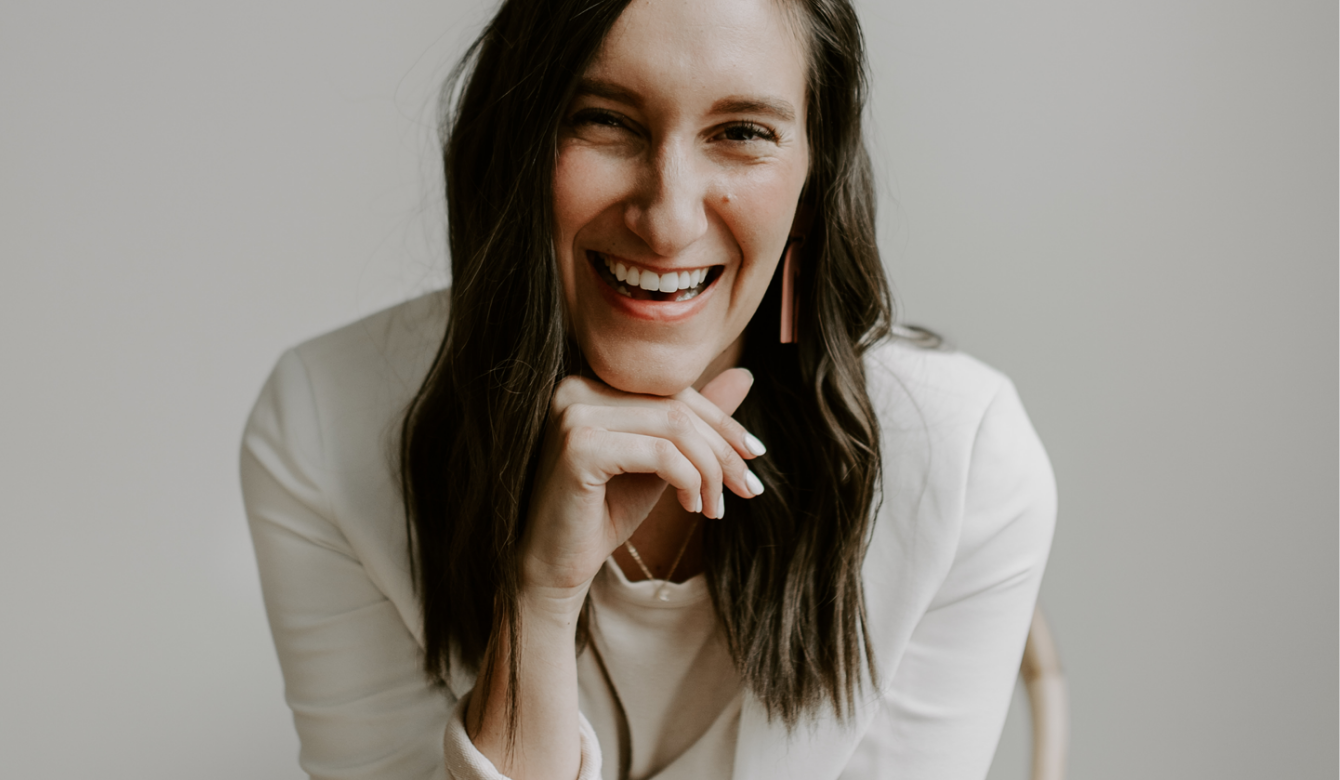 Karrie Locher has been a Postpartum & Nursery Nurse for 8+ years. After using Bodily during her most recent postpartum experience, she teamed up with us to curate kits featuring her favorites from our collection.
A mother of four, Karrie has also created online courses for new parents — Conquering the Early Weeks of Breastfeeding and Bringing Home Baby — that outline what to expect both in the hospital and at home.
You can find Karrie on Instagram (@karrie_locher) and learn more about Karrie and her courses at karingforpostpartum.com.
Shop Karrie Locher x Bodily: The Postpartum Kit.
Materials & Care
Do Anything Bra
Materials: Non-toxic certified Italian OEKO-TEX fabric. 76% Polyamide, 24% Elastane.
Care: Machine wash delicate cycle. Tumble dry low. Do not bleach. Cool iron.
Designed in NYC.
Non-Slip Organic Breast Pads
Materials Full Coverage:
Layer 1 (anti-leak, anti-slip): Polyester & Silicone
Layer 2 (high-absorbency microfiber): Polyester, Polyamide
Layer 3 (against skin): Organic Bamboo, Polyester
Care: Machine wash cold. Dry pads thoroughly on regular heat. Do not use fabric softener or dryer sheets — they create a coating which inhibits absorption.
Nip Protect
Shea Butter, Organic Olive Fruit Oil, Organic Coconut Oil, Caprylic/Capric Triglyceride, Calendula Flower Extract, Beeswax, Tocopherol
Free of parabens, dyes, fragrances, petroleum and lanolin. Made in USA.