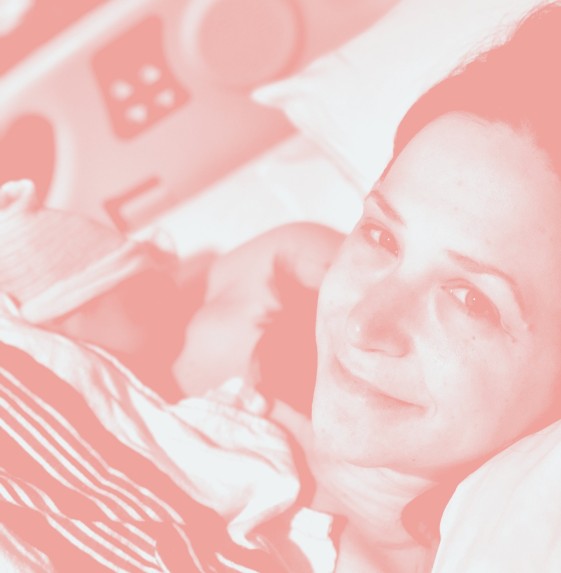 Reducing risk and maintaining sanity
Giving Birth in COVID-19: Tips for How to Prep
Interview with Tovah Haim, Founder of Bodily
How To Prep For Giving Birth During COVID-19
In a moment where online shopping is experiencing shipping delays and everyone is avoiding stores as much as possible (if they are even open), having the right set of products awaiting you when you return home from the hospital with your newborn is key. We turned to our founder Tovah Haim, who gave birth in mid-March in NYC amidst the COVID-19 crisis, to find out what products she used and would recommend.
One set of tools is what you need for postpartum recovery in general, but there's more to have handy now to help to communicate as effectively as possible on virtual doctor's visits. As you try to avoid in-person doctor's visits for social distancing, remember that it's ultimately your doctor's call whether or not you need to be seen in-office or at a hospital. These are tools to help you share information with your doctor and feel better as you recover but are in no way meant for self-diagnosis. Your best tool is a clear and open relationship with your doctor over video or phone calls, so that they can decide the correct course of treatment.
Tools for specific medical issues
It's rare to encounter serious medical complications, but if you are one of the few who do (Tovah did!), having these inexpensive products on hand can be the difference between knowing when you are facing a serious medical issue before it progresses and ending up in the hospital.
Here are Tovah's picks in her own words.
Blood Pressure Cuff
Helps to identify Preeclampsia and Postpartum Preeclampsia (affects 5-8% of pregnancies)
Blood pressure cuffs are readily available (I liked this Auto Arm Blood Pressure Monitor) and it could save you multiple trips to the doctor or pharmacy to have it taken. My doctor identified that I had preeclampsia in the third trimester, so I was monitoring my blood pressure at home with this cuff. Then because I had it at home, and was aware of the small but serious risk of postpartum preeclampsia (which is a leading cause of preventable maternal deaths in the US), I took my blood pressure at home daily in the weeks after giving birth. I was able to catch early that my BP was on the rise again and shared the numbers with my doctor via virtual visit. She was able to diagnose me remotely, and prescribed blood pressure medications—another avoided office visit. I continued to check my blood pressure four times a day after that and stayed in daily communication with her to update her on my numbers. Thankfully it has stayed under control and we were able to manage it remotely with only one trip to the pharmacy required. Having the information and the right tools ahead of time probably quite literally saved my life.
The Right Maxi Pads
Helps to identify Postpartum Hemorrhaging (affects 1-5% of people)
Having maternity pads — NOT regular maxi pads (which are not made for postpartum flow)— at home makes it easier to identify if and when you actually have an issue. If you use a maternity pad and bleed through more than one per hour, that is a standardized measurement that a doctor can use to gauge if you are experiencing a postpartum hemorrhage (a panty liner or thin maxi holds much less fluid, and makes it difficult to assess how much volume you are actually losing). Postpartum hemorrhaging is another leading cause of preventable maternal mortality in the US, so being observant and prepared with the right tools to help a doctor assess your situation virtually is critical.
Good Nipple Products
Helps to avoid Mastitis (affects up to 10%)
Educate yourself on good breast and nipple hygiene ahead of time to help avoid mastitis. While in ordinary times you may not opt to sanitize your breast pump parts after every use (although this is the recommended procedure by AAP), in the age of COVID-19, sterilizing them after every use is critical, and wiping down your pump with a sanitizing spray or cloth is highly recommended This helps to reduce risk of bacteria on your pump parts, which may reduce one of the factors that can lead to mastitis.
Using a nipple moisturizer and protectant regularly throughout the day can also help. Nip Nourish improves elasticity and repairs the skin barrier, helping to repair cracks and prevent dryness using an antimicrobial coconut oil-base which may be extra beneficial for preventing infection. Coat your nipples with a skin protectant like Nip Protect prior to showering to prevent dryness. Using products that are packaged in a tube or a pump are critical—products in jars are much more likely to harbor bacteria due to finger dipping.
Lactation Massagers & Emulsifiers
Helping to avoid Clogged Ducts
This is painful as well as being a risk factor for mastitis. With my first child I visited a physical therapist frequently to have the clogs broken up via ultrasound, which isn't possible this time around given our sheltering in place restrictions. LaVie products are great preventative tools: I love the Lactation Massager and the Lactation Massage Roller. Use the roller to help ensure good flow and hopefully prevent clogged ducts if you think you are at risk for them. Have the massager on hand just in case you get one (try using it in a warm shower). Another product I'm using is Legendairy Milks Sunflower Lecithin as a preventative measure against clogged ducts. Anything to prevent a potential doctor's visit!
Formula
I'd also recommend having formula on hand ahead of time. Even if you plan to breastfeed, it's smart to have some around in case your milk comes in a little late or breastfeeding doesn't go as planned. With shipping delays and product shortages being the norm right now, this product is not one that you want to be without when you need it. While you may not need to use it, if you do, you need to be able to access it immediately for the health of your baby. While breastfeeding provides wonderful benefits for infants and the birthing parent, having a baby that is sufficiently fed and gaining a healthy amount of weight is critical and especially during these tricky times, making sure you have the right products and tools on hand to provide for your baby when necessary is strongly recommended. Please do not feel bad or defeated if you need to provide your infant with formula as a supplement or entirely. Your baby will be just fine—there is loads of research that supports that.
Tools for virtual pediatrician appointments
While we did meet with our pediatrician for our daughter's first check in, we were told at that appointment that it was not advisable to come back to the doctor's office for her next scheduled visit. It would be safer to monitor at home, and have a virtual appointment. Of course this was a scary and jarring thing to hear.  But now that we have several virtual appointments under our belts (for my postpartum preeclampsia and when my toddler spiked a fever (talk about terrifying!)), I now feel more calm and confident about it being effective, and our ability to manage it. In my experience so far, with the right tools at hand you can actually accomplish quite a lot while maintaining recommended social distancing.
A Good Baby Scale
In a world where most pediatrician visits are virtual, one of the key things they want to do is know the baby's weight to ensure they're thriving. Now you can do that at home and give them the information on your video appointment so they can assess what it means and what you should do from there. I use the Salter Baby/Toddler Scale, which is simple but highly effective. Align with your doctor on milestones and process that they recommend specifically for you, but generally tracking your baby's weight once a week is a pretty good practice.  
An Infant Thermometer
A rectal thermometer and Vaseline or Aquaphor for glide are recommended for taking an infants' temperature. Make sure you have an adult one for yourself, too.
Essential products in recovery and breastfeeding
I started Bodily because I realized there wasn't a resource for high-quality products for postpartum recovery after my first child. Having these in my home for the recovery from my second child, even with the uncertainty and fear surrounding COVID-19, made my first few weeks at home so much easier. I had everything I needed, which made everything less stressful, and it kept me out of pharmacies. My husband carried the little Guidebook for Supporters around in his pocket and was so prepared and attentive as a result—it was wonderful for both of us.
The kits I had on hand for myself, and was grateful for
I purchased the Care For Birth Box about a month before my due date, because you never know when you'll actually give birth (I ended up giving birth ten days early). When I knew I was having a C-Section, I purchased the C-Kit as well. The Care For Birth Box had me covered with everything I needed in the hospital and then at home, and the C-Kit had items specific to a C-Section as well as additional pads, stool softener, and mesh undies. I needed, used and appreciated having everything included and it 100% kept me out of pharmacies.
Bonus: The Peri Wash bottle that comes in the Care For Birth Box and V-Kit can be used as a bidet if toilet paper shortages continue!
My favorite individual products
Having our Belly Band for my C-Section has been essential and incredibly pain relieving. My OBGYN recommended that I wear it for 40 days, which I will happily do.
The All-In Panty: My favorite postpartum & c-section panty 
These made me feel human again! They are so soft, so forgiving, and they fit my postpartum body while not being granny panties. I never want to take them off!! And I bought them in sizes medium and large—and am able to wear both easily. They're incredibly stretchy and forgiving and have the perfect balance between coverage and being a little cheeky! I feel like me in them.
These were everything during the first few days and weeks. Having black boy shorts made me feel a little bit closer to being back to me in those early days than I could have imagined. While the transition to the postpartum panties has been welcome and amazing, I was so grateful to have these in the first week or two.
The Maternity Pads
One pack came in each of my Care For Birth Box and my C-Kit, and I have been very grateful to have two packs of the pads on hand (FYI they also come in the V-Kit for vaginal birth recovery). These are incredibly soft, very absorbent, and super comfortable. After my first pregnancy, the unexpected amount of bleeding combined with the wrong pads equaled disaster. But this time around, everything was under control, comfortable, and contained. Loved the difference these pads made.
I am living in these. My edema (swelling) was SO bad that I couldn't even fit into Crocs! The Cozy Socks fit my swollen feet and ankles and feel fantastic (and look cute!). I wear them all day every day.
No joke, this bra is the BEST for the first month of breastfeeding. It is so easy to nurse in and SO comfortable (and cute!). I also bought this in two sizes and am able to wear both of them thanks to the stretch. Having at least two has meant that I have one to wear during the day (and night!) and one to go in the wash (keeping your bra clean is an essential part of breast health and helps reduce risk of infections). It is non-constrictive, which is essential in preventing clogged ducts and mastitis. The right bra matters a lot!
All in all
While the idea of giving birth in the time of COVID-19 was terrifying, I found that being prepared with information and the right tools went a really long way in making the experience way more navigable than expected. Virtual connectivity and appointments have worked really well for us, and we were hit with some pretty serious medical situations.
The risk of getting COVID-19 is scary for anyone, and particularly so when you have a newborn and are in recovery. We all need to take precautions very seriously and avoid infection. It is definitively true that a global pandemic was not in anyone's birth plan, but we can and will get through this.
Read up ahead of time. Talk to your doctor and get an understanding of what the hospital experience will be like before you go so your expectations are set. Then order the tools ahead of time to keep you out of pharmacies and doctors offices wherever you can reasonably avoid it.
You can do this.
All opinions and views expressed by our experts are their personal opinions and are not medical advice. Always consult your care provider if you have questions or concerns.
Check us out on Instagram @itsbodily for interviews with our experts and additional tips and tid bits. We are here for you.
For more guidance on Recovery and Breastfeeding, read our articles on topics including Postpartum Headaches and Preeclampsia, Postpartum Bleeding, Breast Engorgement, Postpartum Constipation, Postpartum Contractions, and Sore or Cracked Nipples While Breastfeeding.