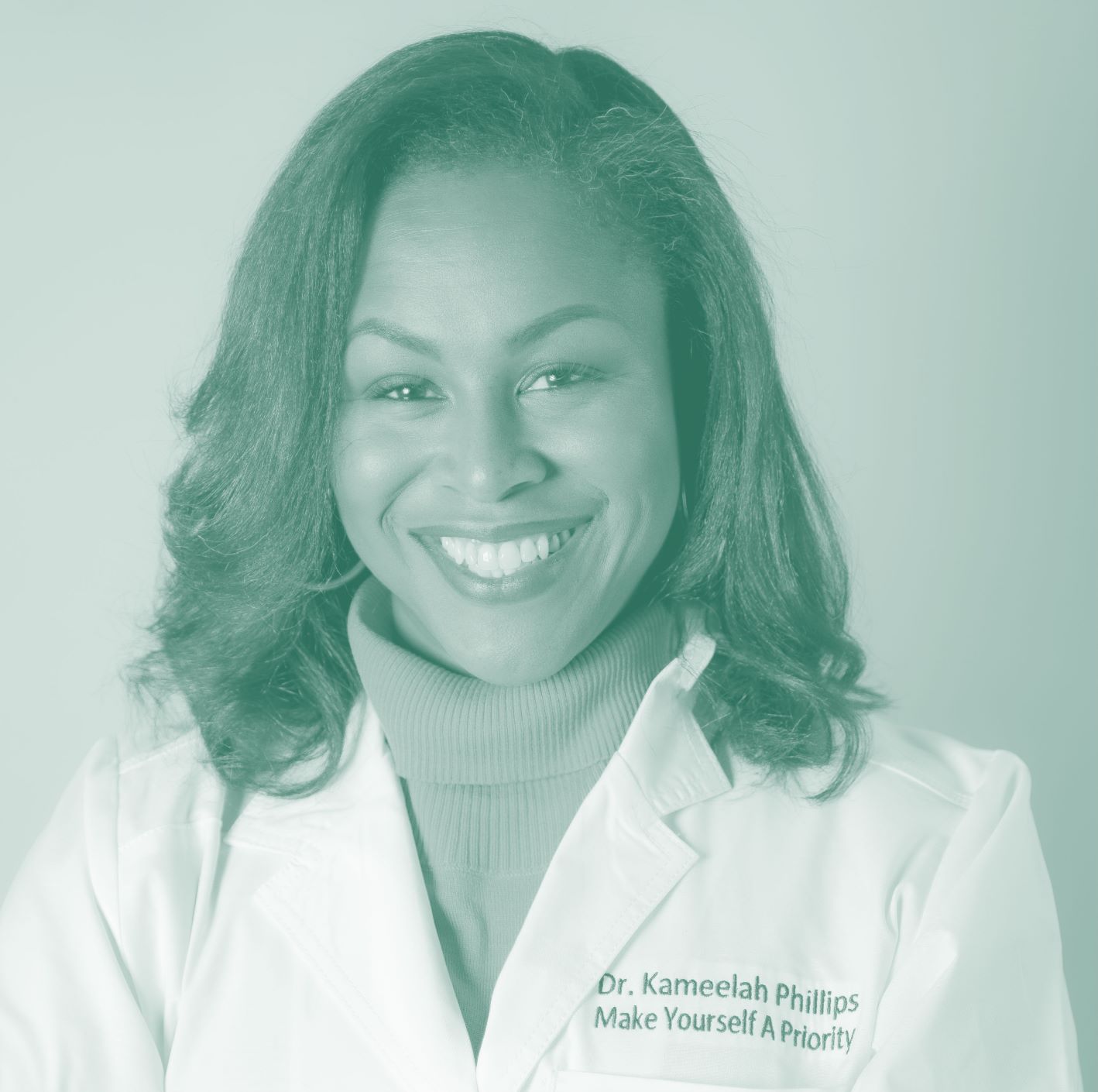 AN OB-GYN EXPLAINS WHAT TO EXPECT DURING YOUR PREGNANCY AND DELIVERY
How to Navigate Pregnancy During COVID-19
Dr. Kameelah Phillips, a NYC-based OBGYN, answers your questions on what to expect during your pregnancy and delivery in the age of COVID-19.
If you are pregnant right now, you're probably see-sawing between being exhilarated, worried, anxious and excited. All normal! You also probably have a lot of questions about what to expect throughout your pregnancy and giving birth in these times — even if this isn't your first pregnancy, it's a different scenario than pre-COVID-19. Dr. Kameelah Phillips, a NYC-based OBGYN, is actively seeing patients and delivering healthy babies on the frontlines at Lenox Hill Hospital (you can follow along on her Instagram). She has tips and advice on what to expect from your doctor's appointments, hospital stays and labor that will help you plan for yourself and your support team.
NOTE: We first spoke to Dr. Phillips in late March 2020 and have updated her responses in September 2020. In some instances, we have left both in so you can both see the latest protocols and understand what's changed.
Q&A:
Q: What precautions should a pregnant patient take for in-office appointments?
A: September 2020: A lot of doctors' offices are back to normal and are operating routinely. You can still take a few precautions to be safe.
Offices may or may not be spacing out patients to prevent the waiting room from filling up. You can always inquire about the least busy times and schedule accordingly.
Wear a mask at all times. 

Wash your hands before and after the visit.

Have your questions ready so that the visit is as efficient as possible.

Wear a mask during travel if you are using public transportation.

Schedule your in-person visits so that multiple things can be done at once, i.e. a scheduled ultrasound appointment or vaccination along with check-up.
Q: If you think you're pregnant, should you go in to be tested by your OB/GYN?
A: September 2020: Doctors are seeing patients as normal if you want to have a blood test in the office.
A: March 2020: I would recommend a home pregnancy test, which is pretty accurate (as long as they are not expired, they are fine). I rely on those. If a person tells me, "I took three tests and they're positive," then she's pregnant and she doesn't need to come in to confirm. What I have been trying to do is if they have a reliable period, I can calculate when I should expect to see something on the ultrasound and then potentially offer them a visit around that date so we know how we're moving forward. If it's a woman who has had a history of an ectopic or another type of abnormal pregnancy, then we have to come up with another schedule, because clearly we want to diagnose an ectopic pregnancy and treat it early.
Q: Are you changing how often patients come in and do appointments virtually? What can be skipped?
A: September 2020: I'm seeing pregnant patients on a regular schedule in my office in NYC and not scheduling telehealth. Different areas of the country are under different regulations, so make sure to check in with your doctor specifically.
A: March 2020: Here's what we do in my practice as of right now.
Less than 11 weeks:

Virtual

 

The initial intake visit can be done virtually, especially if less than 11 weeks.

11-13 weeks: In Person 

 

The dating (first trimester) ultrasound and nuchal translucency are done between 11-13 weeks and the initial OB labs can be done at this time.
20 Weeks:

In Person

 

The anatomy appointment should be done around 20 weeks.

28 weeks:

In Person

 

At 28 weeks we will do vaccinations, RhoGam and repeat labs. Previously we would have an appointment between 24-28 weeks for this.

32 weeks:

Virtual

 

The 32 week visit is generally in person, but can be virtual.

35-36 weeks:

In Person

 

The 35 -36 week visit is in person so that the GBS and other labs can be collected.

37 weeks Onwards: Depends on Situation.

From 37 to delivery visits should be weekly, but depending on your situation, you may consider alternating with virtual visits.

Postpartum:

Virtual

 

The postpartum visit(s) can be virtual unless there are complaints that need to be physically addressed.  
Q: By how much should patients be spacing out appointments? 
A: September 2020: Unless you are in a current hotspot, this may not be necessary for you.
A: March 2020: Consult with your doctor. Spacing out may be dependent on the patient. Do not look for or expect consistency during this time. This is all very new territory for patients and doctors. In general, we have dropped some of the every two week visits which typically take place after 28 weeks.
Q: Can other appointments, like sonograms, be delayed? 
A: September 2020: Appointments are happening as normal on schedule.
Q: How are you handling gestational diabetes testing? 
A: September 2020: Check with your doctor to see if they are making adjustments. We are running on normal appointment schedules now.
A: March 2020: Typically, you'd have anywhere from 28-34 weeks to get your diabetic screen done, but now we're going to push it to the RhoGam visit (which, if you're RH negative, is at 28 weeks) and just do everything at once.  We don't want to compromise care and miss important diagnoses but we're trying to combine that visit with another important landmark to minimize visits.
Q: What is the biggest change you're expecting for hospital deliveries?  
A: September 2020: A big change since March in NYC is that hospitals are now allowing doulas. It has to be an actual certified doula. It can't be a "support person" like a mother or a sister. They have to have a doula certificate. And the doula has to also provide negative COVID results. In my hospital, visitors are being allowed but with limited hours.
A: March 2020: The biggest changes primarily have to do with the degree of protection I have to wear for deliveries. It used to be a more intimate experience, but now with PPE, it is more uncomfortable.  Patients also have to wear face masks which is a bit challenging for some. Imagine working out with a mask on…it doesn't seem that fun.
I have seen patients rise to the occasion and not complain. They are very understanding of the sacrifice that everyone has to make during this time and have been very accommodating.
A few weeks ago, partners were restricted from deliveries because of an increase in COVID-19 infections. This was very stressful for most families. Hopefully, patients and their partners will be more mindful of their symptoms and the hospital communities so that restricting partners does not have to be a consideration again.
Q: What policies are in place at the hospital and office that are different now for COVID-19? 
A: September 2020: When you come for procedures that are "elective," patients get screened outpatient three days beforehand. If you're coming for an elective C-section or something like that, we would screen you before so it doesn't hold you up here. And if you are COVID positive, we're not rescheduling you, but we'll have the procedure in the special room and the staff will be prepared with their PPE.
A: March 2020: Many hospitals are checking temperatures of patients and their partner prior to entering the labor floor. Patients are also answering a screening questionnaire prior to coming to the floor. Only one support person is allowed during the extent of the hospital stay. In triage, we only allow the woman being evaluated and her partner waits outside until a decision is made about admission. Everyone is expected to wear masks until they are discharged to home. We are not allowing partners to come in and out of the hospital while the woman is in labor. Partners are also rescreened for fever every 12 hours. Vaginal deliveries and C-sections are being discharged early unless they have medical issues that require a longer stay.
Q: Should women wait longer to go to the hospital when they are in labor to reduce potential exposure time? 
A: March 2020: We're all really encouraging women to call ahead of time. Call, call, call. For example, women might have come before if they lost their mucus plug but that doesn't mean anything for length of labor. The true emergencies are heavy vaginal bleeding and decreased fetal movement. If you are having heavy vaginal bleeding, you should just get to the hospital. If you notice decreased fetal movement, call your doctor immediately and drink something sweet, cold or caffeinated, and typically you should feel the baby move, which is reassuring. Another reason to call before you come is that entrances have changed, elevators might be different. You don't want to get there and be like, "well, this is where I was last time," and it's not the same anymore.
Another reason to call is so we can let Labor and Delivery know that you're coming because we have different rooms for COVID-19-negative, COVID-19-positive, and suspected people. Your doctor will call and say, "I have a COVID-19 positive patient coming" so the hospital can prepare the COVID-19-specific room for you. It helps to give us a heads up as opposed to a patient showing up, being in triage with everyone and saying, "Oh, by the way, I'm COVID-19 positive."
Q: Are new mothers being discharged earlier from the hospital as a precaution? 
A: September 2020: Most patients are going home 24 hours after a vaginal delivery and 2 days after a C-section, but it depends how the patient is doing and if they are doing well enough to be discharged.
A: March 2020: Yes, at my hospital, we are trying to discharge women on day one if they are vaginal and on day two for a c-section. If you had a vaginal delivery and you're not moving around as well, it's hard. Technically in the hospital, you'd probably still be laying in the bed and you certainly can do that at home on your couch or in your own bed. If there's a need for you to stay, you're staying. We're not kicking you out. We're making sure that we're still delivering the best care under the circumstances. For example, I had a C-section patient the other day, and she just was not meeting her milestones, so she stayed, no stress. We're still really taking the best care possible of women.
All opinions and views expressed by our experts are their personal opinions and are not medical advice. Always consult your care provider if you have questions or concerns.
Read more from Dr. Phillips as she answers our questions about postpartum care, breastfeeding and recovery in the age of COVID-19, and explore all our content around pregnancy, postpartum and breastfeeding in this current crisis.