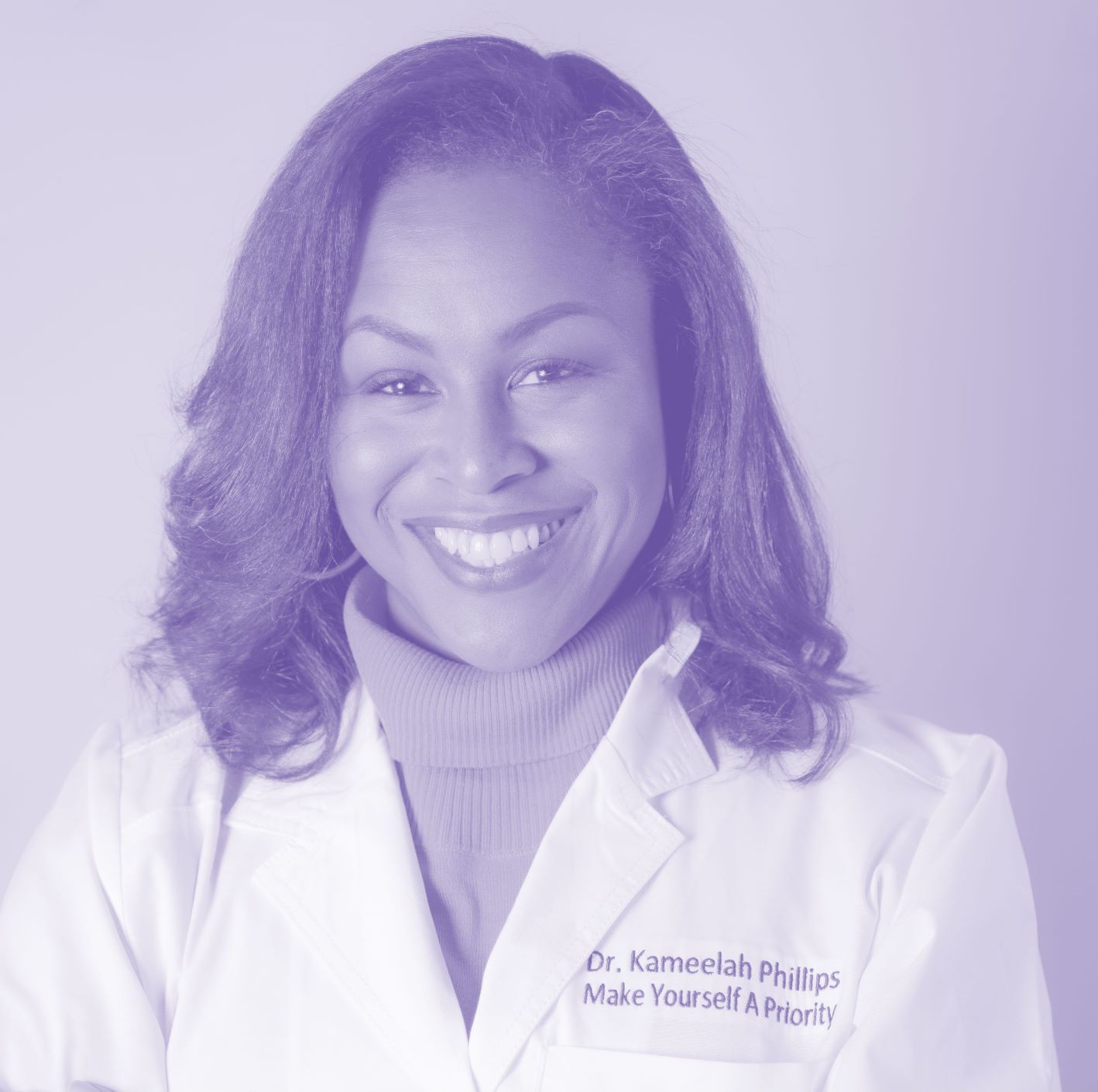 AN OBGYN ON POST-BIRTH RECOVERY, BREASTFEEDING AND CARE
How to Navigate Postpartum Care During COVID-19
Dr. Kameelah Phillips, a NYC-based OBGYN, answers your questions on what to expect after leaving the hospital in the age of COVID-19.
Heading home with a newborn is always intimidating but adding on the threat of COVID-19 makes it a little scary too. You also probably have a lot of questions about what to expect as you recover, how you can maximize your support system, and how you can work with your doctor — even if this isn't your first pregnancy, it's a different scenario than pre-COVID-19. Dr. Kameelah Phillips, a NYC-based OBGYN, is actively seeing patients and delivering healthy babies on the frontlines at Lenox Hill Hospital (you can follow along on her Instagram). She has tips and advice on how to handle postpartum recovery that will help you plan for yourself and your support team.
NOTE: We first spoke to Dr. Phillips in late March 2020 and have updated her responses in September 2020. In some instances, we have left both in so you can both see the latest protocols and understand what's changed.
Q: In postpartum care, are you switching to all virtual appointments? Are you still doing 6 week checkups in the office?  
A: September 2020: A lot of doctors' offices are back to normal. We are seeing patients in office and recommend masks and hand-washing. We are doing 6 week checkups in the office at this point in NYC.
A:
March 2020
: This will vary by office, but if you feel well, much of what needs to be done can be taken care of in a virtual visit.  Return-to-work paperwork can be completed without a visit and family planning can be reviewed virtually. 
Q: When should someone definitely come in for an in-person postpartum appointment?
A: This answer has not changed from March 2020 to September 2020.
Patients should come in if:
If they have a foul odor, which can be a sign of infection or prolonged bleeding. Sometimes even that can be triaged remotely. 

If they are touching their vagina and there's still extreme discomfort at 6 weeks post-birth. 

If their bleeding is perhaps outside the realm of a normal postpartum (bleeding through more than 1 maternity pad per hour or two hours), and they don't feel comfortable with it, then that might be another reason.
Q: If in person, should the person who gave birth bring their baby to their postpartum check up? Or would it be best to leave the partner and baby at home?  
A: September 2020: Some offices are checking temperatures. Some offices are still allowing just the patient and then the partner can FaceTime or Zoom for the appointment. It's still best to leave the baby at home for now.
A: March 2020: If your office is offering virtual visits, I would consider a virtual visit and leave the baby at home for an in-person appointment.
Q: What do you anticipate being the greatest change for new parents in the COVID-19 environment? 
A: September 2020: I want new parents to know that breastfeeding can still be safe. If they're asymptomatic, we ask them to breastfeed if that's their decision. Just please wear a mask. And if they're pumping, make sure that they're washing their pumping supplies, washing their hands beforehand, cleaning thoroughly, and then washing their hands after feeding. But our recommendations now are that you can still breastfeed, but we would ask that you just wear a mask.
If you're COVID positive and symptomatic, we recommend that you pump and then give that milk to a healthy person to feed the baby until you're no longer contagious. That's a little more challenging, because you'll see different recommendations of when that is, but until you're at least 72 hours post your last fever. Just again, washing your hands, wearing a face mask, being mindful of how you're cleaning your pump accessories and then asking a healthy person to feed the baby instead.
A: March 2020: What gives me personally a little anxiety, especially for new moms, is the risk that breastfeeding rates might be impacted. I've been spending a lot more time with them and answering questions. Our lactation consultants are doing virtual work, which is working well, but I'm hoping that our breastfeeding rates aren't going to drop because of this. I've been hammering anticipatory guidance to everyone. Babies become more alert on day one of life and are more actively ready to feed while the mom is still recovering, and if she is home, she doesn't have the in-house lactation support that she typically does at the hospital. 
Q: How can my network help in light of these times — partners, parents, friends?
A: This answer has not changed from March 2020 to September 2020.
One's network should:
Don't deliver any packages, i.e. flowers or balloons to the hospital.

Respect the hospital rules and do not try to sneak into the hospital.

Prepare the home for mother and baby. She will still be in recovery and possibly in significant discomfort. Create a quiet space where she can relax.

Make a rotation to have meals prepared and offer to help as a mother's helper as she recovers.

Take care of/entertain the other children.

If you are sick or coughing, stay away!

Partners can help with baby care as much as possible. Look out for feeding cues and bring the baby to her for latching. Clean and sterilize pumps parts, Keep the house clean including dishes and clothes.
Q: Once returning from the hospital, how should I take care of my baby? What changes do I need to make from the normal post-birth baby care routine?
A: This answer has not changed from March 2020 to September 2020.
If you are sick, get tested if you can. Since testing for COVID-19 is challenging in some places, then carry forward as if you may be a carrier or positive. This means wearing a mask during breastfeeding, or switch to pumping so that someone else can feed the baby. Wash your hands frequently. Otherwise normal postpartum care is indicated. If you test positive or have concerning symptoms, consult your pediatrician and OB immediately regarding distancing and severity of symptoms.
Q: If something seems off, who can I contact right away to get answers? In an emergency, is going to the hospital safe?  
A: September 2020: Reach out to your doctor and she can direct you on how to proceed.
A: March 2020: You should always contact your doctor first. They can direct you on how to proceed as it varies from hospital to hospital. Some entrances, elevators, and units have changed to accommodate COVID patients and you may not be aware of this. If you think you are in labor, then call first for instructions. It is safe to be in a hospital right now. The spread of COVID that happened on some labor floors was traced back to partners who misrepresented symptoms and caused others to get sick. Now with the new policies, we expect Labor to be a safer place for patients and health care workers.
If you have a true emergency like active vaginal bleeding, for example, then proceed to the hospital.
Q: How do you see this affecting postpartum depression and anxiety?
A: This answer has not changed from March 2020 to September 2020.
I definitely have that on my radar and is something that I'm addressing before women go home. Typically, we don't see women until six weeks after delivery. There has been a movement to change that because we all recognize that patients start to get tearful much sooner. As part of my anticipatory guidance, I'm telling women that being tearful in the first few days is a normal experience. However, if the crying turns into a list of things to look out for, I'd like you to give me a phone call so we can talk over the phone about what you're experiencing and make sure that it's normal. I want to discuss counseling options, discuss how they can improve their home environment for support, discuss the need for medication. I'm telling women ahead of time that COVID-19 is on everyone's mind, and it's a valid concern. It adds a layer of anxiety to what new moms already have, and for some moms it's tipping them over.
All opinions and views expressed by our experts are their personal opinions and are not medical advice. Always consult your care provider if you have questions or concerns.
---
Read more from Dr. Phillips as she answers our questions about pregnancy and delivery in the age of COVID-19, and explore all of our content around pregnancy, postpartum and breastfeeding in this current crisis by clicking here.